Alasania slams Russia for violating ceasefire agreement
By Mzia Kupunia
Wednesday, November 19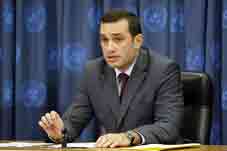 Georgia's Permanent Representative to the United Nations Irakli Alasania accused Russia on November 17 of violating the six-point ceasefire agreement and committing ethnic cleansing of the Georgian population. Speaking to journalists at UN headquarters a day before the Geneva talks, Alasania said that Russia has increased its military contingents and combat armaments in Georgia's breakaway regions. He also spoke about "huge concentrations of separatist troops and illegal militia units" in Abkhazia and South Ossetia, calling this a "fragrant violation" of point 5 of the six-point Sarkozy-Medvedev agreement.
"Troops belonging to a permanent member of the Security Council have invaded a United Nations member state and are still occupying integral parts of that member state," Alasania was quoted as saying on the UN news website. Georgia's representative at the UN called on international society to continue supporting Georgia by adhering to its strong "non-recognition" policy, adding that "true progress" can only be achieved if the "Russian occupation troops are withdrawn from the entire territory of Georgia, including Abkhazia and South Ossetia." He also stressed the necessity of the European Union Monitoring Mission gaining access to the territory of both breakaway regions.
Alasania hailed international society for being supportive to Georgia. Alasania said the strong positions of the UN and US made the Russians back off from Tbilisi and reconsider their goal of overthrowing the democratically-elected leadership in Georgia. Alasania also mentioned the financial support the United States had pledged for the reconstruction of Georgia. He noted that Georgia would need the international community's help in fulfilling the provisions of the Medvedev-Sarkozy six point ceasefire agreement.
Alasania reiterated the readiness of Georgia to cooperate with international investigations into the August war. He told journalists that although it was clear from the Georgian perspective how the war started there is a need for a broader investigation, and the Georgian side is committed to providing international investigators with all required information. "Georgia has requested such an investigation since the beginning of hostilities," Alasania stated.
Alasania commented on reports that Georgia's chances of joining NATO had diminished since the war. He said "a political decision has been made regarding Georgian and Ukrainian membership," and added that Georgia will need time to recover, and thereby meet the standards required for joining the North Atlantic Treaty Organization.
The Permanent Representative of Georgia to the UN expressed the hope that the second round of talks in Geneva would be more productive than the negotiations in October and that "the representatives of the breakaway territories would be more forthcoming."