New British Library opens in Tbilisi
By Ernest Petrosyan
Wednesday, November 19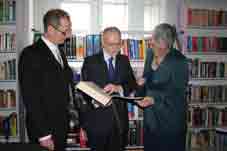 With British Council support a new British Library was launched on November 18 at Tbilisi State University. About 6,000 of the British Councilís contemporary British books and multimedia items were transferred to the new Library. Located in the second building of TSU, the British Library will serve as a cultural and information centre for students, academics, young professionals and all people interested in British culture and education.
H.E. Ambassador Denis Keefe and British Council Georgia Director Paul Doubleday attended the official opening, which brought together book lovers, students and professors. Ambassador Keefe emphasized the successful ongoing partnership between TSU and British Council. Paul Doubleday stressed the prospects of future productive cooperation between the two institutions.
TSU British Library will offer more in-depth coverage of a range of professional subjects, including English Language Teaching, management, law, political science, economics and media studies. According to TSU Rector Prof. Giorgi Khubua, maintenance, sustainability and development will be the key elements of the British Library at TSU. Khubua considers the new library a substantial information resource for Georgian professors and lecturers which will develop their knowledge of British culture, educational and research methodology. This library will also supply the huge scarcity of British literature and other modern information sources available at present. All students will have an opportunity to not only read the books at the library but take them home. When entering the library the atmosphere of a modern information sources and a home of good literature can already be felt, says Giorgi Khubua.
According to Margaret Shakarashvili, Senior Specialist of the TSU Department of Foreign Relations, periodic opinion polls will be conducted among students and professors whose results will affect the further development and improvement of the British Library service.