New security system agreed at Geneva talks
By Mzia Kupunia
Thursday, November 20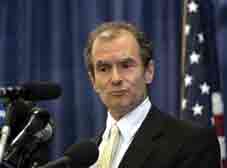 The representatives of Georgia, Russia and the de facto Republics of Abkhazia and South Ossetia have met face to face in Geneva for the first time since the August events to discuss the issues of maintaining security in the region and returning IDPs to their homes. The delegates met each other in the "working groups" format in an individual capacity without identifying the entities they were representing.
The status of the de facto Republics was the reason for the disruption of the first round of talks in Geneva last month, when the Russian side claimed that South Ossetia and Abkhazia should be represented as the equal participants in negotiations. Georgia ruled out any possibility of involving its breakaway regions in the talks at an official level and only agreed to meet with their representatives in unofficial "working group" meetings.
The discussion in Geneva on Wednesday, mediated by the UN, EU, OSCE and US, lasted for about four hours and was held behind closed doors. According to the Georgian media, the sides were satisfied with this second attempt at negotiations. The main point that the negotiators say they have agreed is creating a new security system in the region. The head of the Georgian delegation, Deputy Foreign Minister Giga Bokeria, said the new security regime would involve the deployment of international observers on the whole territory of Georgia. Bokeria said this proposal was objected to by the Russian side only.
Along with this question the Georgian side said it also raised the issue of replacing Russian forces with an international peacekeeping contingent and returning IDPs to their homes. The Georgian delegation members told journalists that they had also demanded that Russia fully meet its obligations under the Medvedev-Sarkozy ceasefire agreement.
The head of the Russian delegation, Deputy Foreign Minister Gregory Karasin, assessed the first working meeting as "intensive and tense." He said the second working meeting, about returning IDPs to their homes, was also tense. "The distance between the positions of the sides is still significant," Karasin said.
Shortly after the meeting the head of the provisional administration of the South Ossetia, Dmitry Sanakoev, who was part of the Georgian delegation together with his Abkhazian counterpart Malkhaz Akishbaia, said the meeting took place in "normal conditions." "It is very important that the meeting was held. We refrained from carrying out any kind of aggressive rhetoric during the discussions. Of course the Georgian, Abkhazian, Ossetian and Russian sides have their own claims, but we will discuss all of these at our next meetings," Sanakoev said.
The US Deputy Secretary of State Daniel Fried stressed the importance of the talks between Georgia, Russia and de facto Republics. "We should sum up our positions and reach progress in the resolution of the conflict. The first step has already been made," Fried stated after the meeting. According to Russian officials the next round of talks in Geneva is planned for December.