Russia warns Georgia against NATO membership
By Temuri Kiguradze
Thursday, November 20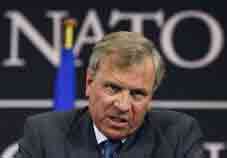 Moscow states that Georgia's aspirations to join NATO may cause a conflict "more serious" than Georgian-Russian war in August. "We are concerned about the Georgian leadership's efforts to increase its military potential and to drag the country into NATO. This action can cause more serious conflict than we saw in August," said Anatoly Serdyukov, Russia's Defence Minister, speaking in Turkey on November 18.
This statement was made on the same day as the NATO Parliamentary Assembly in Spain, where NATO General Secretary Jaap de Hoop Scheffer made a statement concerning the August war. Georgian President Mikheil Saakashvili also attended the assembly and addressed it, confirming that joining NATO is still one of the main goals of the Georgian Government.
Talking about the start of the August conflict, Saakashvili said that Georgia had made a choice "between the bad and the worse" and opened fire to stop the militarization of the separatist region. ''We had to save our country. We can never approve the peacekeeping mandate of Russia. We have always been doubtful about it, but after the August war it has become obvious that it is not what it seems,'' Saakashvili said, adding no peace deals would be signed with Russia in the future.
At the assembly NATO adopted a resolution which recommends that alliance member countries offer Georgia a Membership Action Plan (MAP) in December at the meeting of the alliance's Foreign Ministers. The document also confirms that ethnic cleansing of Georgians in South Ossetia has taken place and accuses Russia of "disproportionate use of force" and "failure to comply fully with the ceasefire requirements" and rejects its "recognition of South Ossetia and Abkhazia."
The resolution reads that the acts surrounding the outbreak of the war "have not been authoritatively established by objective sources." The resolution notes that "the full cooperation of the Governments of the Russian Federation and Georgia is an indispensable prerequisite for a satisfactory outcome of the inquiry." However, despite its criticism, NATO has not given up cooperating with Russia. Another resolution adopted on the same day appeals to alliance countries "to re-establish wide-ranging co-operation with Russia in a number of areas, particularly in the military-to-military sphere, while stressing that this partnership needs to rest upon common values, particularly respect for the sovereignty and territorial integrity of states and the peaceful resolution of conflicts."
"We will not sacrifice one for the other," said Scheffer at the assembly, "because to do so would only mean drawing new dividing lines. Trustful NATO-Russia relations are a strategic asset – a boon to European and indeed global security. That is why the key tenets of our Russia policy – a policy of constructive engagement – will remain. After the Caucasus conflict, there can be no business as usual with Russia, and we need to seriously review our relationship. But "no business as usual" still means "business"."