Burjanadze returns to active politics
By Mzia Kupunia
Monday, November 24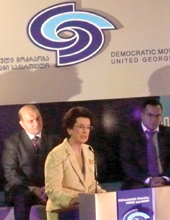 On the fifth anniversary of the Rose Revolution the former Parliament Speaker and close ally of President Saakashvili, Nino Burjanadze, officially returned to active politics with a new party.
This spring Burjanadze refused to participate in the elections with the ruling party due to a disagreement over party lists and later launched an NGO called the Foundation for Democracy and Development. Yesterday several thousand people came to listen to Burjanadze's address at the inaugural congress of newly-founded opposition party Democratic Movement – United Georgia.
Burjanadze, who was one of the leaders of the Rose Revolution alongside Mikheil Saakashvili and the late Zurab Zhvania, said the party would strive to bring a new Administration into office. "We should achieve a change of Leadership through elections, by democratic means, because the current Authorities have lost the trust of the people," she said.
In her 40-minute speech Burjanadze criticized the Administration for the August events, saying that since the August war the country's chances of regaining its lost territories, regulating conflicts and joining NATO have decreased. "Society is divided and frustrated again," Burjanadze said. "Georgia needs a real democracy, because only real democracy brings freedom," she told the audience.
Along with slamming the leadership for undermining democratic values through political pressure, Burjanadze spoke about her own mistakes in the Parliament. "I used to make mistakes, however I never betrayed my political beliefs, I never changed my beliefs," she said. "I was in the governing team for a long time. I was there because I, as a leader, had a real chance to strengthen the country. I stayed there for as long as morally wrong steps did not overwhelm right ones. I stayed there because I believed I would learn lessons from my own mistakes and would not frustrate the hopes of the people. I tried hard, but did not have proper resources," she added.
Burjanadze also revealed the action plan of the Democratic Movement-United Georgia. She said the new force would "resolve the crisis situation in the country." "We can offer society objective information, defend people from pressure and terror, defend their votes, and prevent business from being subject to political pressure. We will start negotiations inside and outside the country," she said.
After the speech Burjanadze went out to meet her supporters in Vera Park, where several hundred people were queueing to register as members of Democratic Movement-United Georgia.
22 year old Khatuna Shubladze, who had just joined the party, said she had decided to join because of her personal sympathies with the former Parliament Speaker. "I like her persona, that's why I joined her party. I used to support her when she was in the governing team as well. I believe her decision to leave the National Movement was right," Shubladze said.
Analysts refrain from assessing the prospects of the new party, however they suggest that it has a chance of success if the party's policy is based on rational and pragmatic judgment. Political commentator Ramaz Sakvarelidze noted that there has been a long tradition in Georgia of politicians leaving the governing team to go into opposition, but this had not always made them more popular or successful.