Georgia wins Junior Eurovision Song Contest 2008
By Etuna Tsotniashvili
Monday, November 24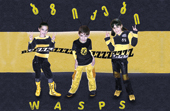 The Georgian group Bzikebi (Wasps) is the winner of the Junior Eurovision Song Contest 2008, it was announced on November 22. Their song "Bzzz," distinguished by its originality, attracted the attention of the whole concert hall in Lemesos (Limassol), Cyprus as well as TV viewers. In Georgia, the concert was broadcast by Georgian Public Broadcasting.
The Wasps were sixth in the running order at Lemesos. Voters from 15 European countries, including Russia, Belarus and Lithuania, gave the highest scores to Georgia's representatives. They received 154 points in total, which put them 19 ahead of Ukraine's Victoria Petryk and 51 ahead of Lithuania's Egle Jurgaityte, who was third with 103 points.
The Wasps were the three youngest performers in Lemesos. For 10-year old Giorgi Shiolashvili, Mariam Tatulashvili and Mariam Kikuashvili, this was the first time they had won a competition. Giorgi, who is in fifth grade, spends most of his time playing the piano and is also fond of computer games, swimming and watching TV. Giorgi said that the song was performed in a new language they had invented, by adding the word "wasp" to every syllable.
Mariam Tatulashvili started singing at the age of 5. Mariam likes going to school and says her favourite subject is Georgian literature. Mariam Kikuashvili is fond of watching cartoons. Her wish is to become a famous singer. She highlighted that their song was very different to all the others and each listener was attracted to it. "I have never heard a song like the one we sang. I read in an encyclopaedia about wasps. Be careful! Don't make us angry," she says.
The Wasps were selected through a national competition in Georgia in which they won the most votes. This is the second time Georgia has taken part in this popular musical event, which seeks to unearth young talent in the 10-15 year of age bracket around Europe. Georgia's Mariam Romelashvili finished fourth at the 2007 contest held in Rotterdam, the Netherlands.
At the end of his speech in Sameba Cathedral on November 23 regarding the Giorgoba holiday, President Saakashvili congratulated the young singers on their most important victory and wished them future success. The next Junior Eurovision Song Contest will be held in Kiev, Ukraine next year.