Saint George at the Pantomime Theatre, Tbilisi
Thursday, November 27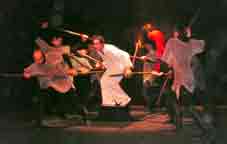 In Georgia, you are surrounded by images of Saint George. Those who want a fuller understanding of who he is and why he is important should,of course, go to church: but if you come to the Pantomime Theatre on 37 Rustaveli Avenue, you will also discover what you need to know.
For those who arenít already aware of it, Saint George was born in Cappadocia, a relative of Saint Nino of Cappadocia, who brought Christianity to Georgia with a cross of vines tied by her hair. This is the spiritual relation between Saint George and Georgia. While Nino was travelling around Georgia with this cross to convert Georgia to the True Faith, George was a military commander under Roman Emperor Diocletian. He was angry with the way Diocletian treated those of his people who had converted to the Christian Faith, and said so.
Diocletian decided to punish his disobedient soldier, and his agents tortured him with spears and bound him on a wheel, to be dragged along behind horses. This treatment was so inhuman that even Empress Alexandra cheered the tortured hero. George rose again, and killed the dragon, allegedly the Emperor himself, as we see on the icons.
Over 45 minutes, backed by pieces from the classical repertoire, the life of Saint George is brought to life before us at the Pantomime Theatre through gesture and movement. We experience the pain and joy, the tragedy and triumph of a real, physical person and his spirit. This is conveyed purely with the tools of pantomime: without words, we can see and experience the pain, and how his very suffering is the glorious victory of good over evil which all Christians are born to seek.
The scenario for this performance was written by Revaz Mishveladze, and it is presented by the famous Georgian mime and now Director of the Pantomime Theatre Amiran Shalikashvili, and a cast starring Amiran Shalikashvili junior.
The Messenger
heartily recommends that everyone sees this play for themselves. It needs no translation and gives a different dimension of emotional understanding and experience to one of the glories of history.