ICC Georgia meets PM
Monday, December 1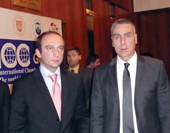 The International Chamber of Commerce of Georgia met the newly-appointed Prime Minister Grigol Mgaloblishvili last Saturday at the Sheraton Metechi Palace Hotel. The session took place behind closed doors, as frank discussion of the situation in the country and the measures to be taken to address it was scheduled.
The PM showed goodwill towards the business community and a spirit of cooperation with it, saying he would receive and consider any questions and opinions from ICC Georgia members.
Commenting on the meeting, Chairman of ICC Georgia Fady Asly called it fruitful and useful.