Saakashvili testifies before the War Commission
By Mzia Kupunia
Monday, December 1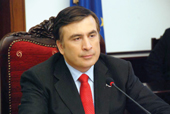 Georgian President Mikheil Saakashvili, testifying before the War Commission on Friday, denied allegations that Georgia was the initiator of the war with Russia in August and had received a "green light" from the US Administration to launch military action in Tskhinvali.
Saakashvili told MPs during the 5-hour hearing that the decision to take military action was "very difficult." He noted that the Georgian Government was defending the "security of its citizens" by going into Tskhinvali because, he said, thousands of Russian troops and armoured vehicles were entering Georgia via the Roki Tunnel, endangering the lives of civilians in the region. "A large-scale bombardment and shelling of Georgian villages was also going on," he said.
"The Georgian authorities decided to carry out a military operation to resist Russia's full-scale attack on the Georgian population. We took the decision – although it was a very difficult one. However it is the decision which would have been taken by any democratically-elected government to protect its population," Saakashvili said.
When asked if the Georgian leaders received any directives about starting the operation in South Ossetia from foreign colleagues, as alleged by the ex-envoy to Russia Erosi Kitsmarishvili, Saakashvili said the decision was made independently. "The decision was taken by us on our own and we were not asking permission from anyone," he told the Commission. "We have never asked any of our international partners for a "green light," and moreover, have never had this "green light," Saakashvili added.
Saakashvili denied allegations about having any personal dislike towards former Russian President Vladimir Putin. There had been speculation that Saakashvili's "aggressive rhetoric" against the Russian President had contributed to the worsening of relations between the two countries. Saakashvili said he had never verbally assaulted Putin by calling him "Liliputin," a reference to the ex-President's lack of height. "I have never, neither privately or publicly, said that. This is a myth promoted by those who do not want to see the real problems in Georgian-Russian relations," Saakashvili said.
The President told the Commission that Russia had long been planning military intervention in Georgia. He said that Georgian officials had been notifying their foreign partners about large scale provocations from Russia in Georgia's breakaway regions. He said that the Georgian side told its Western allies that those provocations were completely out of any sort of framework and asked them to help us somehow avert the military conflict. However, Saakashvili said, "the reaction of international society was late and not as intensive as I would have liked it to be, in order to avoid all of this."
Saakashvili said it was too early to speak about the defeat or victory of Georgia. "Georgia's struggle is not yet over, our struggle is going on. We have been able to save the most important thing – our statehood. Russia's goals, to overthrow the Government, to control the whole of Georgia and its pipelines and oversee the destruction of the Georgian Army, have not been accomplished. However, it is impossible to talk about success while Georgia's territories remain under occupation," Saakashvili told the Commission.
Some political analysts have adjudged the President's tesimony to the Temporary Parliamentary Commission as "informative," while others think there were some controversies in Saakashvili's answers. Political commentator Archil Gegeshidze noted that he heard some new facts from Saakashvili, which "I was not aware of before," he said. "Saakashvili said at the hearing that he had been trying to contact the Russian President and other officials, but they refused to talk. It was new for me, I had not heard about this before," Gegeshidze told The Messenger.
Political analyst Gia Khukhashvili, meanwhile, stated that the President's answers to the Commission were "controversial". He noted that Saakashvili reiterated the official version of the Georgian authorities, that Georgia had responded to the large scale aggression of Russia. "Then why did the Georgian troops attack and Georgian officials say they had retaken Tskhinvali? If it was a defensive war, we should have undertaken a defensive operation and not an attack," Khukhashvili said.
Some analysts assessed the fact of the President testifying before the Commission as "generally positive." Archil Gegeshidze said that "Saakashvili's decision to go to the war Commission is a fact that should be welcomed," and added that "now we have come to the end of the work of the Commission. It is very important that the Commission craws an impartial conclusion about the August events."