Okruashvili's case before European Court
By Sopo Datishvili
Monday, December 1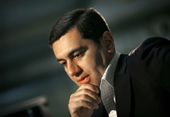 Former Defence Minister Irakli Okruashvili has issued a writ against Georgia at the European Court of Human Rights in Strasbourg. He is appealing against his imprisonment and political persecution by the Georgian Government. Okruashvili will be represented at the European Court of Human Rights by advocate Eka Beselia, a member of his political party, the Movement for United Georgia.
The former Defence Minister will also appeal to the court against his imprisonment in Germany. On the court's demand, his advocates will also present copies of decisions made in this case by the December 3, 2007 Berlin Supreme Court and February 19, 2008 Schoenberg Court of First Instance.
"The court has already accepted the case of the persecution of Okruashvili for further discussion. I will represent Okruashvili only on issues connected with Georgia, for his imprisonment in Germany he will be represented by a French advocate," said Eka Beselia, who thinks that the case is very promising and there is a good chance that court will decide in favour of Okruashvili.
According to Beselia, Okruashvili was even tortured whilst in jail. "We have already tried to protest to the Georgian court about his treatment but it didn't accept the case. We are sure that the European Court of Human Rights will be more attentive to this issue," Beselia added. She also named the three factors which are the most significant in the case which give Okruashvili the chance of a favourable judgment. She says the fact of political persecution is very easily provable. "Today Okruashvili lives in France, which gave him political asylum. He was sentenced for his political views, the Georgian Government cannot prove he was part of any corruption or anything else it has charged him with," added Beselia.
A former member of Okruashvili's party, Giorgi Tsagareishvili, has said that he isn't familiar with the case before the Strasbourg Court, but is also aware of Okruashvili being tortured in a Georgian prison. "I know that there was some kind of pressure put on him in the prison. Irakli told me this himself but I didn't ask more questions then, because it was a purely personal issue. I don't know if they tortured him physically but there were cases of pressure being applied to members of his family," he added.
Irakli Okruashvili now lives in Paris. Once a successful Minister in the Saakashvili Cabinet and his close friend, Okruashvili was found guilty of large scale bribery, extortion, money laundering and negligence while serving as a Minister. He was later released on GEL 10 million bail.
On November 1, according to the Prosecutor General, Okruashvili was allowed to travel to Germany "for medical treatment." He consequently said he had been sent to Germany against his will.