No changes on the Western Front
By Temuri Kiguradze
Wednesday, December 3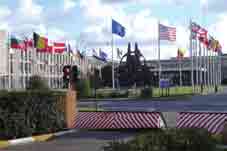 Georgian politicians expect NATO, at its meeting in Brussels on December 2-3, to create a mechanism which will allow it to join the bloc without needing a Membership Action Plan (MAP).
The Georgian side is represented at the meeting of NATO Foreign Ministers by Eka Tkeshelashvili, Foreign Minister of Georgia. Talking to journalists, she stated that Tbilisi is waiting for NATO to propose some kind of "concrete mechanism" for further integration into NATO.
At the NATO summit in Bucharest in April 2008, the bloc refused to offer MAP to Georgia and Ukraine, noting however that these countries "will become NATO members one day." Speaking recently US Secretary of State Condoleezza Rice stated that MAP would not be offered to Georgia at the Brussels summit either. However she has announced that there is a "British Plan" which may help Georgia and Ukraine join NATO without getting MAP. "I would note that Poland and the Czech Republic never had MAPs," stated Rice on November 26, when she also mentioned that it's "clear" that Georgia and Ukraine are "not ready for membership" of NATO at the moment.
"We have the Ukraine and Georgia Commissions," Condoleezza Rice said in London after talks with her British counterpart, David Miliband, on December 1,"and we believe those Commissions can be used to continue to help prepare these states for eventual membership in NATO," she said. "We believe strongly in NATO's open door policy, under which states that are prepared for NATO membership and can assume the responsibilities thereof should be welcomed into the organization. But there is a long road ahead for both Georgia and Ukraine to reach those standards. And the United States stands resolutely for those standards, meaning that there should be no shortcuts to membership of NATO."
German Foreign Minister Frank-Walter Steinmeier told the German Parliament on November 26, as quoted by the German news agency DPA, that there was "no reason" for the alliance to go further than the Bucharest decisions at this stage. He repeated this position on December 2, saying that he hopes the NATO Ministerial "will agree to stick with the agreement from Bucharest. I see no reason to go beyond that for now," as quoted by Reuters new agency.
Georgian Parliamentary opposition member Nika Laliashvili has said that no one has any illusions about the Brussels meeting. "'I have an expectation that number of political issues will be resolved for the benefit of Georgia, and support for our country will be reflected in the communique adopted by the NATO Foreign Ministers,'' Nika Laliashvili has said. However, ''When Russia is so aggressive towards Georgia, other mechanisms can be found for reaching the goal, and the goal is that Georgia must join the alliance,'' stated Davit Darchiashvili, Chairman of Parliament's European Integration Committee.
On November 18 Russian Defence Minister Anatoly Serdukov stated that Russia is "concerned about the Georgian leadership's efforts to increase its military potential and to drag the country into NATO. This action can provoke more serious conflict than we saw in August." This statement was strongly condemned by Georgian Government, which stated on the same day that "Russia does not hesitate not only to threaten Georgia, but also Europe."
"The task of the NATO Ministerial is quite hard now. It has to adopt a decision that will not be irritating for Russia but somehow acceptable for Georgia. This can't be MAP, so they will propose something else which will enable the bloc to continue its partnership with Georgia but still keep a distance. NATO Foreign Ministers will need all their creativity to achieve this," considers Georgian political analyst Ramaz Sakvarelidze. Another Georgian independent analyst Gia Khukhashvili, states that he is not expecting some concrete decision from NATO. "Neither Georgia nor NATO are ready for that," said the expert talking to The Messenger.
Khukhashvili considers that the Government should properly evaluate the realities existing in Georgia now. "NATO will avoid accepting a country with internal conflicts; the bloc doesn't need open confrontation with such a great power as Russia. Accepting Georgia into NATO is a big risk and the alliance is aware of that," states Khukhashvili, adding that the Georgian Government misrepresents NATO accession progress to its own people. "Despite the fact that we didn't get MAP at the Bucharest summit, our Government has announced that this was "a great victory." I'm sure any decision made in Brussels will be called a victory even greater than in Bucharest. This summit will be used as propaganda by the current regime," concluded the analyst.