Future of security in Europe in focus as OSCE Foreign Ministers gather in Helsinki
By OSCE Chairman-in-Office Alexander Stubb, Finnish Foreign Minister
Wednesday, December 3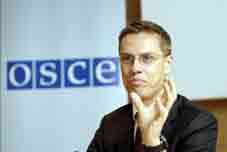 This week, nearly all foreign ministers from the Organization for Security and Co-operation in Europe's 56 participating States will gather in the Finnish capital to make a serious effort to co-operate to create stability at this critical time.
As Finland, which holds the 2008 OSCE Chairmanship, hosts the 4-5 December OSCE Ministerial Council, we once again return to the city where it all started - Helsinki. It was here that the Conference on Security and Co-operation in Europe that later was transformed into the OSCE was born, through the signing of the Helsinki Final Act in 1975. This is also where the proud spirit of the OSCE – the Helsinki spirit – originates from. This was the new platform for dialogue, an atmosphere in which countries large and small, friends and foes, came together on an equal footing to communicate, co-operate and find common solutions.
But this is not a time for the OSCE to reflect on past achievements. With the foundations of our security and the fortunes of our economies being tested, the Organization and its key work methods – dialogue and co-operation – are needed more than ever. Notwithstanding our disagreements, we must find concrete ways to promote co-operative security.
I look forward to welcoming the foreign ministers from the OSCE region to my hometown. Their presence at the Helsinki Fair Centre over two days illustrates their belief in the Organization's role in European and regional security. We shall waste no time, and start with frank discussions about the future of security in Europe.
We need to make tangible progress in promoting the values of democracy, human rights and the rule of law, which underpin our common security. We should also bolster co-operation among OSCE participating States, particularly on security-related matters, including politico-military security and emerging threats. And we should make a determined contribution toward settling unresolved conflicts in the OSCE area. The recent crisis in Georgia underlined the urgent need to find sustainable solutions there and to tackle tensions in Moldova and those between Armenia and Azerbaijan.
With 3,000 employees and 19 field operations, the OSCE is the world's largest regional security organization - an important forum for dialogue and an effective platform for action that promotes security.
This cornerstone of Europe's security was laid 33 years ago in Helsinki. This week, it is up to us to make sure that our talks lead to real progress on the ground by agreeing a way forward for our co-operative security. I am confident that the spirit of Helsinki will once again help us succeed.