EU enquiry plans ready by December 19
By Mzia Kupunia
Thursday, December 4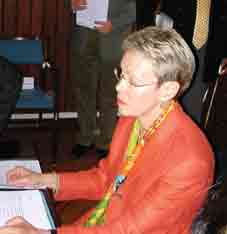 The detailed plan of the exact format of the EU-sponsored enquiry into the August war will be ready by December 19, Swiss diplomat Heidi Tagliavini said yesterday. Tagliavini, who is a former UN Special Envoy to Georgia, told
Euobserver.com
that she will be travelling to Russia and Georgia by the end of the year.
"I should have some clear ideas about the whole mission by then. An investigation is a process. I might have a team by the end of this year and then hire extra people if the need arises," she told Euobserver.com. Tagliavini said she is currently selecting a panel of about 10-12 people, including historians, lawyers, military staff and human rights experts.
Tagliavini noted "it is a Solomonic decision," referring to the sensitivity of selecting the panel. "We know the sensitivities and we will try to address them," Tagliavini was quoted by
Euobserver.com
as saying.
The EU officially launched its "fact-finding mission" to look into the "origins and the cause of the conflict," after EU Finance Ministers formally endorsed the mission on December 2. According to the text approved by the EU Ministers "the geographical and time limits will be sufficiently broad to determine the possible causes." The EU has announced it will provide EUR 1.6 million for the mission. The Chair of the mission said, "The budget is good."
The Georgian Government has repeatedly stated it is ready to cooperate with the international investigators. Meanwhile the French EU Presidency spokesman says that the Russians have also said they are in favour of this sort of enquiry. "We hope that will translate into effective support for the work of this mission," the spokesman added.
The mission has to present the conclusions to the EU, OSCE, Georgia and Russia on July 31, 2009. However, the mission could be extended if needed, the Georgian media reported.