Poti port now wholly owned by Arab company
By Ernest Petrosyan
Thursday, December 4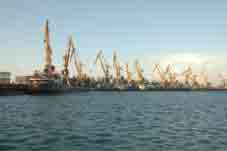 On December 2 the Arab company RAK Investment Authority, which had owned 51% of Poti Sea Port, acquired the remaining 49% of its shares to become its sole owner. Representatives of RAKIA and Georgia's Minister of Economic Development Ekaterine Sharashidze signed the agreement on Poti Sea Port's acquisition at the Parliament Chancellery. RAKIA has paid 65 million USD for the additional 49% of shares.
On signing the agreement the Executive Director of RAKIA Khater Massaad stated that over the last 3 years RAKIA has been investing in various projects and will continue investing in Poti Sea Port and in the development of its free economic zone.
According to Massaad, this investment will be very beneficial for both Georgia and the company. Khater Massaad stated that Poti's port should transform into the main economic zone on the region and have a high operational capacity. "RAKIA development group also hopes that during the next 5 years Poti will become a city of international importance," he added. Sharashidze pointed out that this decision had been made after a long period of discussion. When RAKIA had bought 51% of the Port of Poti, there was an agreement that it should provide the port with more equipment which would increase its container traffic. "The company which held 51 % of the shares will build a new modern terminal at the port as well as new docks near the existing ones, implementing new technologies. During the next five years the company plans to invest 200 million USD, thus creating 20,000 new jobs," noted the Minister.
"The fact of Georgia attracting foreign investment against the background of a global financial crisis is very important. The development of Poti port and the free economic zone will significantly support the creation of new jobs and the overall development of the Georgian economy", stated Sharashidze.
The Minister explained that despite the fact that RAKIA now owns 100% of the shares the "golden share" rule is in force, which will restrict the owner from essential reorganization, for example the liquidation of the port. She added that all important decisions should be made with the agreement of the Georgian Government.
In April 2008 when RAKIA became the owner of 51% of Poti seaport it made a USD 80 million initial investment. At this time RAKIA began building the necessary infrastructure around Poti Sea Port for the creating of a Free Industrial Zone on 300 hectares of land, with USD 10 million in initial investment. RAKIA intends that Poti will become one of the most strategically important cities in the Caucasus region, profitable for the world's leading companies and international investors to enter. Its infrastructure will be developed and thousands of new jobs created.