Small hydropower plant reopens in Vani region
By Mzia Kupunia
Friday, December 5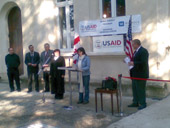 The small Sulori hydropower plant, in the village of Salkhino in Vani region, has reopened 20 years after it ceased functioning in 1987 due to economic problems in Soviet Georgia. Following rehabilitation work the generation capacity of the Sulori plant has grown to 800 kW, representing 4.5 million kW per year, enough to service approximately 1,500 households.
Representatives of USAID's Rural Energy Programme, which has supported the rehabilitation of the plant, US Ambassador to Georgia John Tefft and Georgian Government officials attended the opening ceremony in Salkhino on December 2. In his welcome speech the US Ambassador praised the project and reiterated US support for Georgia's economic development, including the energy sector. "This is an example for other Georgian entrepreneurs to follow," Tefft said, referring to the owner of Sulori LTD.
Deputy Energy Minister Marika Valishvili, who was also present at the opening ceremony, stressed the importance of the hydropower plant for the local community. She said the reopening of the Sulori plant meant the "energy independence" of the region. "The rehabilitation of this plant means that local residents will have less desire to leave their homes and will stay where they have lived for years. Every such project promotes the economic growth of the country and its well being," Valishvili said.
The owner of the Sulori LTD, Nodar Ugrelidze, said his friends had advised him to privatize and rehabilitate the ruined plant. Ugrelidze said that he, like the Salkhino village residents, was quite skeptical about what the project would bring. When however he saw that the project he had initiated required more human and material resources than he had imagined, he went to the Rural Energy Programme to obtain recommendations on how to create a business plan and get a bank loan. "They responded immediately, and I have been feeling their support throughout the whole process of rehabilitation works," Ugrelidze noted.
Ugrelidze said that, based on the business plan prepared by the Rural Energy Programme, Sulori Small hydropower plant had received a loan of about 40% of the required rehabilitation amount, with the balance coming from the owner's equity. Ugrelidze said that the output of the plant would be purchased either by the Electricity System Commercial Operator or some local direct customers.