Maia's success in London
Monday, December 8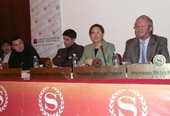 Maia Baratashvili has given her first solo concert in London at the Pushkin House. The singer was accompanied by Gia Rakviashvili on piano and Giorgi Samsonadze on double bass.
Maia's repertoire included pieces by contemporary British, American and Russian composers. She pleasantly surprised the audience by performing Cabaret songs by Benjamin Britten in jazz arrangements.
Maia Baratashvili is a musician with her own individual performing style. She expresses herself through her attitude toward the piece she performs and through phrasing and intonation. She is naturally artistic and has a true sense of harmony that never betrays her. Her timbre is rich and her diapason is so great it is really her trademark and makes her unique. This is important to note, since there is always a risk that falling under the influence of world-renowned vocalists could restrict a musician's own style.
British newspaper The Guardian said in its article on this concert: "Maia has a quality rare among today's famous jazz vocalists: she can blast an audience out of the exits with raw power. However, she combines this with an ingenuity that conjures fresh melodies out of any tune. The audience was enchanted by the spectacular performance; it was a special evening and memorable day for all those present. We hope to see Maia in London again in the near future."
The Anglia weekly Russian newspaper in the UK also praised the concert: "Those who wanted to attend the concert were so many that some of them had to stand. Maia managed to engross the hall with masterpieces of jazz improvisation and at the end of concert she performed several Russian romances."
Maia's concert in London was suggested and organized by the British-Georgian Society (Stephen Nash, Chairman) and the British-Georgian Chamber of Commerce (Lord Cromwell, Founder, Mako Abashidze, Director). The event wouldn't have been possible without the generous support of Bank Republic (Societe Generale Group) and British Midland International (BMI).