PM reshuffles Cabinet
By Mzia Kupunia
Monday, December 8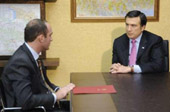 Three Ministers lost their posts as a result of a Cabinet reshuffle on Friday. After a month in post as Georgian Prime Minister, Grigol Mgaloblishvili has changed the Foreign Affairs, Education, Defence and Culture Ministers.
The PM presented his planned new Cabinet late on December 5. Grigol Vashadze, a former Deputy Foreign Minister who was appointed as Culture Minister a month ago, will now be the Minister of Foreign Affairs, replacing Eka Tkeshelashvili. Former Deputy Defence Minister Batu Kutelia will become the Acting Defence Minister, replacing David Kezerashvili. Nika Gvaramia, once Justice Minister, will become Education Minister in place of Gia Nodia.
The post of Culture Minister is vacant, after former Ambassador to Russia Zurab Abashidze refused this portfolio. The position of National Security Council Secretary is also vacant, after Prime Minister Grigol Mgaloblishvili said Alexandre Lomaia would be reassigned from his current position to the diplomatic service, without naming a replacement.
President Saakashvili hailed the Prime Minister for the proposed changes, saying that "new blood" was needed in the Government. He said that Georgia is facing pressure from the Russian aggression, as well as the world economic crisis, adding that "courageous and extraordinary" steps are to be taken. According to Saakashvili changes in the Government had been discussed for several weeks. The President noted that the dismissed Ministers "do not deserve to be thrown out." "We should use them in senior positions," Saakashvili said in his televised speech alongside the Prime Minister, however he did not specify exactly what positions they might occupy.
While Georgia's ruling party hailed the Cabinet changes, saying that "renewal is a positive process in itself," and "good professionals have been proposed as Ministers," the opposition has criticized the reshuffle, calling it a "senseless" move. Pikria Chikhradze from the New Rights Party said the changes were a bit late. She said the Defence Minister should have been dismissed a month ago, when the Ministers of Culture and Environment were changed for "unknown reasons," Chikhradze said.
Some political analysts maintain that the "professional skills" of the candidates had been taken into account, rather than political factors, when choosing new Ministers. Political commentator Ramaz Sakvarelidze told journalists that "It is pleasant that while conducting the reshuffle, the Administration has put the accent on professionalism." Other analysts however are more skeptical of how effective the changes might be. Soso Tsiskarishvili noted that the reshuffle is an attempt by the Government to "mask its policy, which it is not going to change." He said that it was not reasonable to expect the beginning of "a process of major change" in the ruling team.
The first session of the new Cabinet will be held as soon as the candidate for Education Minister is nominated, the Georgian media has reported.