Patriarch Ilia to mourn Russian spiritual leader
By Sopo Datishvili
Monday, December 8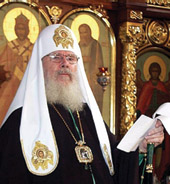 Catholicos-Patriarch of all Georgia Ilia II leads the delegation from the Georgian Orthodox Church which has assembled for the funeral of Patriarch Aleksy II of Moscow and all Russia on December 7. The delegation will also attend the burial.
Before going to Russia, the Catholicos-Patriarch said that he might also meet Russian officials during his visit. "I want to state, in the name of our nation, that Georgian people will not bear Abkhazia and South Ossetia being separated from the rest of the country," the Patriarch declared.
On December 5, a few hours after the death of Aleksy II, The Patriarch of Georgia held a prayer service dedicated to him, where Ilia II said that the Russian Patriarch "was a great friend of Georgia." He also mentioned the support Aleksy II had always expressed to his nation, Holy Synod and believers.
Aleksy II was born in Tallinn on February 23 1929. He had been head of the Russian Orthodox Church since June 10 1990. The Patriarch of Moscow and all Russia died on December 5 at the age of 79. His death was quite unexpected for those around him. According to initial investigations, it was caused by a heart attack.
The body of the Patriarch is currently invested in the Cathedral of Christ the Saviour in Moscow. Prayers for his soul will be held daily.
Before it chooses a new Patriarch, the Russian Orthodox Church has appointed Kyril, Metropolitan of Smolensk and Kaliningrad, as the interim head of the Church. He was elected by the Holy Synod in the Peredelkino residence (where Patriarch Aleksy II died) on December 6, at an urgent meeting. Under Russian Church regulations the new Patriarch must be chosen by the synod in six months' time.
On December 7, President of Russia Dmitry Medvedev authorised the organization of the burial. On December 9, when this will take place, entertainment shows will be cancelled on all Russian media channels under this directive. Prime Minister of Russia Vladimir Putin declared after the death of Aleksy II that the Patriarch was a bright person and his death was a tragedy and a big loss for the country.
Aleksy II always expressed support for Georgia. After the Russian-Georgian war and Russia's recognition of South Ossetia and Abkhazia as independent, he made a special announcement in which he recognized Georgia's territorial unity. He added that the Georgian and Russian churches are brothers and in spite of the political situation they should stand together.