ICC-Georgia meets Giorgi Baramidze
Tuesday, December 9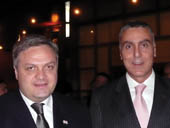 On December 5, 2008 the ICC, in the framework of its regular discussion forum, hosted Mr. Giorgi Baramidze, Deputy Prime Minister of Georgia and Minister for European and NATO Integration.
ICC Chairman Fady Asly opened the discussion with a quick overview of postwar Georgia, wishing the Government, opposition, media, business community and public at large would finally move beyond the events in August and put an end to discussions of insecurity and instability, instead focussing their efforts on reconstruction and prosperity to reassure both Georgians and foreign communities. Deputy Prime Minister Baramidze provided a synopsis of Georgia's postwar strategy in relation to NATO and emphasized the relationships that have been established with the upcoming U.S. administration as well as Governmental meetings with the EU, UN, World Bank and IMF.
The financial aid package earmarked for Georgia's reconstruction amounts to 4.5 billion dollars, to be paid over a three-year period, of which 250 million dollars has already been disbursed. Mr. Baramidze also confirmed that 800 million dollars will be allocated to the private sector, stressing that the Government's utmost priority is to keep the economy growing.
Change will continue at an even faster pace than before the conflict, with lower taxes, tougher anti-corruption measures and energetic reforms in the judiciary as primary objectives. Businesses and citizens who are experiencing difficulties will not be abandoned and the Government pledges its support to all those affected by the crisis.
"My door is wide open for any business or common citizen wishing to meet and discuss issues or any change in policy," stated Baramidze after responding to inquiries posed by ICC members.