Two opposition parties form an alliance
By Mzia Kupunia
Tuesday, December 9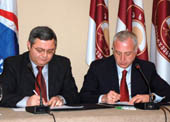 The New Rights Party and the Republican Party announced on Monday they were forming an alliance, aimed at solving "the acute political, economic and military crisis" in Georgia.
According to the leaders of the two parties, the agreement to create an alliance was made after long and intensive consultations about a long-term political and strategic plan for the country's development. Speaking at its unveiling at the Courtyard Marriott, leader of the Republican Party David Usupashvili said the main task of the alliance during the next year will be to secure the holding of early Presidential and Parliamentary elections. "We, together with the Georgian people, should decide who should be governing the country," Usupashvili said.
The alliance, which according to New Rights leader David Gamkrelidze and Usupashvili is open to dialogue with any political force on issues important for the country, will present its action plan and joint leader in a month. There have been speculations that former Ambassador of Georgia to the UN Irakli Alasania, who resigned from his post last week, might become this leader. Usupashvili and Gamkrelidze confirmed having had consultations with Alasania, however they neither denied nor confirmed these speculations. "We are interested in finding out Alasania's plans," Gamkrelidze said, adding that all details will become clear by next month. Gamkrelidze noted that Alasania is a "desired partner for the alliance." "Alasania has all the resources to become a significant figure in today's Georgia," Gamkrelidze said.
Usupashvili told journalists they are putting the accent on their strong team, not their leader. "The coalition needs a leader, but the team will be more important in our alliance," he said. Gamkrelidze and Usupashvili also noted that the name of the alliance will be announced after a month, when the final composition of the coalition is known. "Right now it is the "Alliance of Republicans and New Rights," they noted.