Council of Europe Representative advises replacement
By Mzia Kupunia
Wednesday, December 10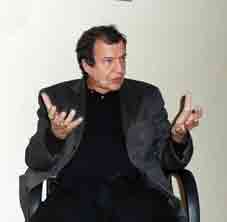 HE Igor Gaon, Special Representative of the Secretary General of the Council of Europe in Georgia, has finished his tour of duty and is leaving for Strasbourg on December 21 to work as a political advisor for elections and conflict resolution. He gave his first full length interview in Georgia for four years to
The Messenger
.
Gaon said that he is leaving Tbilisi with mixed feelings and an "almost empty basket." "Georgia did not leave me indifferent. I was emotionally involved in every event here, of course always keeping my international profile so as not to make political mistake. When you live for years in the country you become a citizen of Tbilisi, you become somehow part of its society. I am very emotional right now, because I think that in these four years I did a lot of things, probably good things, but time will judge my work," he said.
Gaon noted that he came to Georgia with a list (" a basket")of commitments four years ago, and has fulfilled almost all of them except one – the signing and ratification of the European Charter on Minority and Regional Languages. Gaon said the three most important goals fulfilled during his time in Georgia were ratifying the convention on minority issues, introducing the criminal procedure code which is going to be adopted soon, and ensuring territorial and legislative reform in Georgia.
As regards the August war, Gaon said that he had reported to the Council of Europe that tensions were rising in the country. However, he said he had never officially mentioned that war was possible, because as Gaon said he "could not believe that this could happen." "You know, there was something in the air. I am from Bosnia and I saw four years of war and I could not believe this could happen again. Maybe subconsciously I was thinking about it, I had only a feeling that the situation is not good, but for me it was hard to predict something like this. I had biological resistance to admitting that war was possible, but as you see it is possible," he noted.
Gaon said that now it is up to the Georgian Government and people, and not foreigners, to regulate relations with Russia. "I think that how to regulate relations with Russia is in the hands of the Georgian Government and the Georgian people. You have to know how to get out of this situation. It is up to local people to start a dialogue with Russia," Gaon stated.
Before leaving Tbilisi, Gaon left three suggestions for the next representative of the Council of Europe to Georgia. "I suggest that he or she reads The Messenger every day first of all," he said smiling. "The second point is that the Georgian people are very proud people. Maybe this is sometimes good and sometimes not, but you have to recognize this. This means when you are recommending something or trying to push people to do something, speak to the people in the equal way. Polite speech will open even the golden door. If you are an executive and think they are not, you will not achieve anything. And my third advice will be to go out in the street and watch as soon as possible. Only by walking around will you understand how the society is in Georgia. If you only go out in your car, and stick to your receptions and meetings, you will not get a real picture of Georgia. Only by speaking to the people and communicating with them will you understand where you are and be able to work successfully," Gaon concluded.
Gaon ended his interview by saying that he has many times entered a Georgian church to pray for the well being of the country. "I go into the church and put a candle in front of the St. George icon, or St. Mary and ask, God, give this country peace," he said, again smiling.
The Messenger
sends its best wishes to His Excellency in his new post and wishes him every success in his life and future career.