Have a happy Dutch Christmas
By Salome Modebadze
Thursday, December 11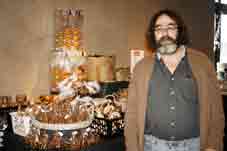 From December 8th to December 30th Dutch Design Garden is inviting guests to its Dutch Christmas Show, being held at its showrooms between 11:00 and 20:30 each day.
Dutch Design owner Martin Veltkamp explained the reason for the Christmas Show. "The show will become an annual event from this year onwards. It aims to present Dutch Christmas traditions to Georgia. Visitors of different ages can visit our garden every day. They can look round the showrooms, buy accessories, or enjoy a nice glass of hot "gluhwine," hot chocolate or special Dutch soup," Mr. Veltkamp noted. The cozy, decorated Christmas showroom with a wide variety of Christmas trees, lights, statues, candles, Christmas balls and many other festive accessories does indeed create a suitable seasonal surrounding.
Eka Datunashvili, General Manager of Dutch Design Garden, explained that this exhibition of Christmas accessories attracts the attention of both Georgians and foreigners, and locals express their satisfaction that the company is established in Tbilisi.
"All the goods Dutch Design Garden presents to the Georgian people are imported from Holland. The show offers its visitors a great variety of Christmas accessories. You can choose between natural and artificial Christmas trees, painted hand-made balls and statues and various fragrant candles which can add festivity to your Christmas mood," she added.
The prices of the Christmas accessories are acceptable and relevant to the quality of the goods. The organization presents a full display of Dutch traditions and values for Christmas, thus opening the doors of the small world of Dutch Design Garden to Georgian visitors.
Dutch Design Garden by Martin Veltkamp was established in Tbilisi on June 28, 2008. The organization focuses on creating city parks, designing gardens and decorating interiors.