Christian Democrats propose new security system
By Sopo Datishvili
Thursday, December 11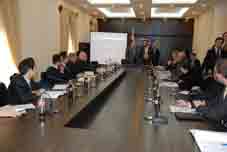 On December 8 the Christian Democrats asked the Government to create a new national security system, which they believe has become necessary now that the work of the Temporal Parliamentary Commission studying the August War has revealed failings in the current system.
This initiative was presented by Nika Laliashvili, who quoted the main causes of the gaps in the national security system. These were the lack of institutionalization and competence and the structural disorganization of the National Security Council. He also highlighted that the National Security Council failed to cooperate with other branches of Government which had a responsibility to address force-majeur situations. The reform suggested by the Christian Democrats involves adding a Commission of Directors comprising department heads and expert staff. Parliamentary Committees, non-Governmental organizations and foreign advisors would also be involved in the working process of the Security Council.
Christian Democrat member Levan Vephkhvadze spoke to The Messenger about the new initiative and said that the group of professionals involved in security issues should be wider than it is now. "The Commission of Directors should be oriented on making particular decisions. A department heads' body is already part of the Security Council, but it should consist only of specialists in their field," he added
Vephkvadze claimed that in theory Parliament had always been the decision making branch and the Security Council was obliged to depend on it, but this arrangement was only for show. In reality whatever decisions came from the legislative branch were ignored. The Christian Democrats also suggest that a range of new strategic documents should be developed, such as: the conception of civil defence, intelligence service and crisis control, counterterrorist and information strategy, estimation of risk etc.
Christian Democratic Party leader Giorgi Targamadze said that putting this initiative into practice would be mostly up to the President. Parts of it which require decisions made by other people will be identified by Christian Democrats before the initiative is presented to Parliament for affirmation. "The August events showed us the inadequacy of the national security service. The system we are suggesting will essentially alter the current situation," added Targamadze.
Only the presentation of the new initiative was made on December 8, so direct consultations upon this topic with the Government haven't started yet, as party members confirm. The bill will be ready by the end of December, at which point Parliament will start to work on it. If the draft plan receives the support from MPs it will soon afterwards become operational.