Patriarch advocates peaceful resolution of Russian-Georgian tensions
By Messenger Staff
Friday, December 12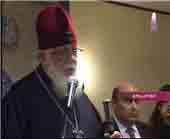 Catholicos-Patriarch of All Georgia Ilia II, in a televised statement, has said he believes that both Georgians and Russians are interested in a peaceful resolution of the problems in the relations between the two countries.
Speaking in Moscow on December 11, Ilia II said that Georgia and Russia "are brothers and friends of the same Faith, and should be closer to each other." The Patriarch's statement was made after he participated in the funeral of Russian Patriarch Alexey II, who passed away on December 5.
The head of the Georgian Church also met President Dmitry Medvedev. The details of this meeting, which lasted for 45 minutes, have not yet been made public. "I had a meeting with the Russian President and I think that everyone is interested in resolving the problems between our countries peacefully," stated Ilia II after the meeting.
Quoted by Russian radio, Ilia II said: "Georgia needs a strong Russia, like Russia needs a united and friendly Georgia. I think we will achieve this with the help of the Lord."
Georgia's former Ambassador to Russia, Zurab Abashidze, who was a member of the Georgian delegation, said that the Georgian Orthodox Church played "a positive role" in establishing relations between the two countries. He also said that the visit of a delegation of the Russian church to Georgia will be conducted at the end of December.