OSCE observers under fire
By Temuri Kiguradze
Friday, December 12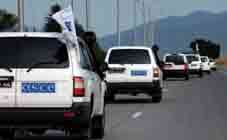 A vehicle in which OSCE observers were travelling was attacked on the administrative border of Georgian breakaway region South Ossetia on December 10. Several bullets hit the front windscreen of the armoured car, but no injuries were reported.
According to the Georgian Ministry of Internal Affairs the incident occurred at 5 pm near Kvemo Khviti village east of the administrative border. The Ministry states that the shots were fired from territory controlled by South Ossetian militia and Russian troops.
The South Ossetian separatist authorities have strongly denied any involvement with the shooting. "The South Ossetian side shouldn't be accused of this," stated Ibragim Gasseev, de facto Deputy Defence Minister of South Ossetia. "Kvemo Khviti village is 1.5 km away from the border with South Ossetia. The target range of even the best models of firearms doesn't exceed 800 metres," he said.
OSCE has published a press release giving details of the shooting incident. It states that an OSCE armoured vehicle was conducting a routine patrol in the district when it came under fire "after two unidentified men in camouflage uniform emerged from bushes close to the track and began shooting with sub-machine guns." The OSCE Mission in Georgia has condemned the shooting. "I strongly condemn and deplore this serious attack on unarmed military monitoring officers," Terhi Hakala, the head of OSCE Mission in Georgia, said. "The details of this unacceptable incident are being looked into carefully." "This is another regrettable reminder of the urgent need to improve the security situation in the area and the OSCE continues to devote all efforts to this issue," she added.
The Georgian Interior Ministry also reported a separate security incident on December 10, in which a remote-controlled explosive device was set off close to the administrative border near Nikozi village. The Ministry reports there was "serious damage" to the vehicle but no wounded. The Georgian Ministry of Foreign Affairs has made an announcement concerning the December 10 incidents, stating that they "once again demonstrate the volatility of the security situation on the ground and the necessity to have the international monitoring organizations in the Tskhinvali Region/South Ossetia, Georgia and Abkhazia, Georgia.
"Continuous provocations and verbal or physical attacks on OSCE Mission Military Officers and EU Monitors are a clear demonstration that the Russian Federation and its puppet regimes dislike the idea of transparency and an impartial monitoring of the occupied regions, where the numbers of Russian troops and military equipment have been increasing recently. The Ministry of Foreign Affairs of Georgia is convinced that the reinvigoration of the presence of the international monitoring organizations in the occupied regions of Georgia is essential for ensuring security and stability on the ground," the statement concludes.