We will not sacrifice Georgia's interests – John Kerry
By Etuna Tsotniashvili
Monday, December 15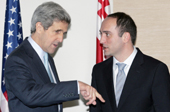 US Democratic Senator John Kerry, who was on a half-day visit to Tbilisi on December 13, stated that: "the USA will not continue negotiations with Russia at the expense of the violation of Georgia's security and sovereignty."
According to the Senator, newly elected President Barack Obama is sure that dialogue between the United States and Russia is important because of the mutual interests of both sides, but not at the expense of a third country's interests.
"…We also make it crystal clear that that dialogue does not come at the expense of the security of Georgia, the sovereignty of Georgia, the independence of Georgia, the rights of its people or our interests here, that are expressed in unison with the European community," he said at a press conference on December 13.
Kerry also reminded Russia of the six point ceasefire agreement and appealed on it to fulfil it. "My judgment is that Georgia as a sovereign country needs to be respected and the agreement that the Russians have signed up to needs to be fulfilled," he said, and added that it has no need to focus on how events developed in August, because it is more important how much progress we have made in human rights defence and finding an appropriate accommodation that respects the law and sovereignty.
According to the Senator the US congress will enhance its attention to the issue of human rights in the conflict zones and he called on the international community to do the same. Kerry also stressed the economic crisis and stated that United States will continue to assist Georgia. "The Congress of the United States, and certainly the United States Senate, will be deeply committed to continuing our assistance to Georgia, particularly at this time, when the economy is stressed and we recognize the very real importance of Georgia and of its ability to be able to sustain itself during this troubled economic time," he said.
At the press conference Kerry talked about current democratic reforms and stated that the Georgian Government is interested in reforms and progress in making reforms should continue. "I am confident that the current Government is very interested in continuing that progress and in undertaking further reforms and we look forward to working with them," he said. Kerry stressed two items, election processes and a free media, in which progress was needed. "Obviously there is progress to be made in the issue of electoral reform and election process, but people are working on that… I think the media needs to continue to be as open and as free as it is becoming; I think progress has been made there, but I think most people would agree that more progress can be made and is being made," the Senator said.
Senator Kerry met President Saakashvili, Prime Minister Mgaloblishvili, MPs and opposition representatives during his visit. Four opposition representatives, Nino Burjanadze, Giorgi Targamadze, Levan Gachechiladze and Davit Usupashvili, held a meeting with the Senator on the same day.
"Georgia expects serious initiatives from USA after Obama's inauguration," Leader of the Republicans Davit Usupashvili said after the meeting. "We talked about country's security and democratic reforms," he added. Former Speaker of Parliament Nino Burjanadze said that the main topic of her conversation with Senator Kerry was the restoration of territorial integrity and the security of the country. Christian Democrat leader Giorgi Targamadze told journalists that the opposition discussed three most important things, including economic and social problems and democratic reforms.
Senator Kerry will take over the Senate Foreign Relations Committee Chairmanship from Vice-President-elect Joe Biden in January.