New Ambassadors are named
By Etuna Tsotniashvili
Wednesday, December 17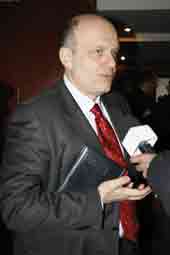 On December 16 Kakha Lomaia, the former Secretary of Georgia's National Security Council, confirmed that he has been named as Georgia's new Ambassador to the United Nations.
After Parliament has approved his candidacy Lomaia will officially replace former Georgian Ambassador to the UN Irakli Alasania, who resigned on December 2 without explanation. According to information from other sources Alasania will enter the political opposition.
Lomaia's nomination as Ambassador was confirmed by Georgian Foreign Minister Grigol Vashadze. Speaking at a press conference on December 16, he also confirmed that he had nominated former Deputy Defence Minister Batu Kutelia as Ambassador to the United States. The position of Georgian Ambassador to the United States has been vacant since former incumbent Davit Sikharulidze was appointed the new Defence Minister on December 10.
Vashadze said that most Georgian Ambassadors will remain in their posts. He explained that his statement of December 5, when was appointed the new Foreign Minister, that all Ambassadors should file their resignations, by saying: "I asked the Ambassadors to file their resignations because I wanted to give an opportunity to the President and Prime Minister to discuss all possible candidates." "We have not dismissed anybody," he added.
At the press conference Vashadze confirmed further Ambassadorial nominations. He said Giorgi Badridze had been nominated as the Georgian Ambassador to the United Kingdom, replacing Gela Charkviani, who will be the new Georgian Ambassador to the International Maritime Organization (IMO), a specialized agency of the United Nations based in the UK, subject to Parliamentary confirmation. Tariel Lebanidze has been nominated as Ambassador to Turkey, belatedly replacing the current Prime Minister, Grigol Mgaloblishvili. Grigol Katamadze has been renominated to his old job as Ambassador to Ukraine and Merab Antadze, the present Ambassador to Ukraine, has been nominated as the Georgian Ambassador to GUAM.
At the Parliamentary session on December 16 four previous Ambassadorial nominations, to the Czech Republic, Hungary, Israel and Cyprus, were approved. The new Ambassador to Hungary and Serbia is Zviad Chumburidze, Vladimer Konstantinidi, a former Consul to Israel, was appointed Ambassador to Cyprus and Vakhtang Jaoshvili to Israel. The new Ambassador to the Czech Republic will be Nino Nakashidze, former MP and head of the Euro-Atlantic Integration Issues Committee. Vice Speaker of Parliament Mikheil Machavariani has stated that the Czech Republic is an important partner for Georgia and highlighted that from January 2009 the Czech Republic will take over the rotating EU Presidency. "There is a complicated situation in the Czech Republic. I hope that the current majority in the Czech Parliament will be preserved and we will further enjoy the strong support of the Czech Republic," Machavariani said.
There are now three remaining Ambassadorial vacancies, in Estonia, Turkmenistan and Uzbekistan.