"The sun is in every man, just give it the chance to shine"
By Salome Modebadze
Thursday, December 18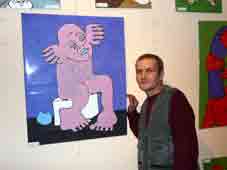 On December 15 the Kopala Art Gallery hosted an unusual commercial exhibition of artwork created by people with mental health problems. The project it is part of, which is financially supported by the Social Transformation Programme of the Ministry of Foreign Affairs of the Netherlands, is implemented by three organizations: the Centre for Legal Cooperation of the Netherlands, the Global Initiative on Psychiatry and the Georgian Law and Bioethics Society.
Tamar Okudjava, the Programme Manager of the Global Initiative on Psychiatry fund, spoke about the project. "The partnership project Georgia:
Improving Human Rights through Upgrading Mental Health Care and Inclusive Education
has been dedicated to the social support and establishment of people with mental problems, their rehabilitation in society and support in human relations," she stated.
On June 10, 2005 an Art Therapy Unit was created for patients of the Tbilisi Asatiani Mental Hospital financed by Global Initiative on Psychiatry. Art therapy is seen as the best way to reintegrate people with mental health problems into society. Lali Badzeladze the Manager of the Men's Second Clinical Department of the Asatiani Psychiatry Research Institute and Coordinator of the Art Therapy Unit explained the reason for establishing the new methods of therapy. "Each human being has creative potential, which can be provoked and used for treatment purposes. Our patients are very creative people. They are able to deal with any kind of job. Different types of skilled work such as knitting, embroidery and tapestry are done here. It is very useful therapy for people with mental disorders as it helps them combat their problems. It is also important to mention that the patients are treated by professional art therapists who take an individual approach to each patient. Their care and support encourages them to adapt to the existing reality and establish themselves in society," Badzeladze stated.
Art therapy is a very popular type of treatment for people with mental health problems throughout the world. It involves a variety of activities according to the patients' potential and need. Such therapy helps patients disclose their hidden potential, raise self-confidence and overcome difficulties. Active participation in various activities aimed at relaxing and entertaining them make patients happy.
Gela Chincharadze is the one of the creators of the paintings at the exhibition. He has been creating his artworks for about 2 years. His paintings vary but there is a connection between them as they all express the inner world of a person through their bodily form and appearance. "I usually paint everything from plants to animals but most of all I prefer painting people in different poses and situations, thus emphasizing their mood and temper. I just sit at home in my hundred square metres and paint whatever comes to mind. The process of painting takes me just a couple of hours. It's like listening to a concert," he explained.
The artworks of people with mental problems have been hosted by London exhibition halls and there are some other offers from abroad. The artists have proved their potential in different ways and now they just hope to be accepted by the rest of the world. They need special care and love from others. They deserve to live in a calm environment surrounded by loving people.