President busy at his birthday
By Etuna Tsotniashvili
Monday, December 22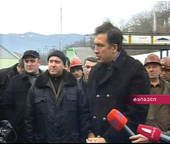 On his birthday, December 21, Georgian President Mikheil Saakashvili was invited to visit the rehabilitated historic centre of Kutaisi. Reconstruction of the city started in 2007 and yesterday the first stage of rehabilitation, costing about GEL 18 million, was completed. The Royal District, the White Bridge, six streets and thirty-eight buildings have now been reconstructed.
During his visit President opened the restored 1st public school of Kutaisi, founded two centuries ago, and met its teachers. He said that the 2009 budget would be oriented towards education and healthcare and promised the teachers that he would increase their salaries.
The day before his trip to Kutaisi the President visited the Tkibuli district, where he met coal miners from the Tkibuli pit. During the meeting President Saakashvili stressed that despite the world financial crisis and generally tough economic conditions negotiations with investors are underway in order to increase demand on the mine. He said that another mine was due to open in Tkibuli next year which would employee more locals. "In crisis periods most of the mines in our neighbouring countries will close. This will not happen here, because as a result of our negotiations with investors you will have contracts for the coming years," Saakashvili told the miners.
About a thousand people currently work in Tkibuli mine, whose average salaries range from GEL 350 to GEL 500. As they work at a depth of 400 metres, their health is 100% insured. Three years ago the Georgian Industrial Group made a GEL 30 million investment in Tkibuli.
After seeing the mine, Saakashvili visited a clothes factory in the town which will open in the next few months. From February onwards preparation classes will be held at which 1,500 people can gain relevant qualifications. The new factory will employ locals, and the President expressed his satisfaction with the new factory and thanked its owners for undertaking such noble work.
On the same day President Saakashvili visited Adjara where he attended the opening of a winter health resort in the village of Gomarduli. According to the President the opening of the winter resort will support tourism development and improve the economic condition of local people. Skiing classes are being held in Gomarduli for 70 children. The President and some of the children skied together on a new track.
"My wish has come true, this is the first time I have been skiing in Adjara," Saakashvili said, adding that Adjara has huge tourism potential. "Everywhere in the world where skiing has been developed people live in good conditions, but this region is in poverty. We will construct this resort and will become richer because so many hardworking people live here that it is impossible them to continually live in poverty," Saakashvili said.