ICC in Parliament
By Messenger Staff
Wednesday, December 24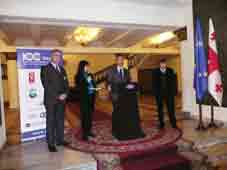 International Chamber of Commerce Georgia members visited Parliament and held a meeting with Parliamentarians on December 22. This visit was the initiative of ICC Georgia, whose President Fady Asly considers that interactive relations between business and politicians are vitally important for both sides.
Deputy Chairman of Parliament Mihkeil Machavariani welcomed the business representatives, expressing the will of the political establishment to more closely cooperate with business.
Fady Asly, addressing the audience, said that although the country is facing serious challenges due to the August aggression and world economic crisis Georgian businessmen must be ready to show the international community that they work well and run viable businesses and that the country can register good performance. All the businessmen highlighted the necessity of such meetings, hoping that they would become regular events.