Conflict victims get shelters
By Mzia Kupunia
Wednesday, December 31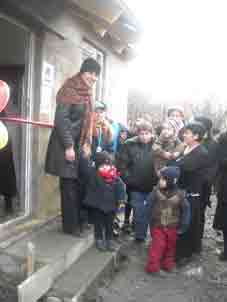 65 year old Lamara Tedliashvili sat near the wood stove in a 24 square metre cottage, looking at the ruins of what before the August war was her house. "Losing everything you have worked for all your life is as bitter as losing your own child," Tedliashvili said in tears.
She is one of the first of those in the village of Karaleti damaged during the Russian-Georgian conflict to receive a shelter built by CARE International in the Caucasus. Tedliashvili says she fled from the village in August and returned when the war was over.
"I entered the yard and saw this," Tedliashvili said, pointing to her burnt down house. She noted that had lived in a stable until the cottage was built.
CARE International in the Caucasus started building cottages in thirteen villages of the Gori and Kareli regions damaged by the Georgian-Russian conflict three weeks ago. According to the Project Manager of the CARE International in the Caucasus Maka Menabde, who together with other CARE and UNHCR representatives visited Karaleti on Tuesday to hand over the first cottages, 192 "warm one room cottages" are being built. She said that "construction of 70% of the cottages is already complete and probably by the New Year all construction works will be finished."
Menabde said that the families which would receive cottages were chosen very carefully. "First of all we identified the families whose houses had been completely burnt down, and then filtered this list by choosing those who had no other sheltered possession," Menabde noted. She added that the builders worked in extremely harsh conditions. She said that bad weather and shooting had in some cases made the work harder. "It is very important that every person is able to monitor the building process and make their comments to the engineers," Menabde stated.
The project is funded by the United Nations High Commissioner for Refugees, which according to its Press Service has allocated EUR 3 million for building up to 400 cottages in the Gori and Karaleti regions.
"I am very grateful that I will greet the New Year in a house and not in the stable," Tedliashvili said smiling.