Old man with big sack spotted in Republic Square
By Sopo Datishvili and Salome Modebadze
Wednesday, December 31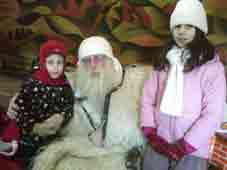 Georgia's Santa Claus is already in Tbilisi and this is not a joke. The hero of the season has travelled a long and tiring journey to make Georgian children happy with his kind wishes and presents.
Santa has settled down in Republic Square in a cozy white hut surrounded by dozens of gnomes in red dresses. They all help Santa to receive the small guests standing in front of his snowy hut waiting to meet their favourite New Year messenger and obtain a long-desired present from him.
Santa's white hut has been the focus of public attention in a small New Year Village full of different side shows. A special stage has been erected for very young musicians who make others dance and sing and young people with brushes and paints make funny ornaments on the small hands and faces of the kids. Some slide on the ice-square and others walk amazed around the huge New Year Tree. The bleating of the queue of happy children hoping to meet kind old Santa is heard in the city from early morning till late at night. Some of them have been standing in the cold waiting their turn for two days already. But no one regrets queuing up.
Santa Claus claims that all the children deserve presents, no matter how they have behaved this year or how many rhymes they know. The red sack next to him is full of presents, and despite the fact that sometimes the wishes of the children don't coincide with the presents the receive in Santa's hut everyone seems to be extremely happy.
"I have already received a big sack filled with wishes and letters. Everyone will receive a present. Although my wish is that every child will behave well I promise that even naughty children will receive gifts this year. My personal wish for New Year is this: Children, love each other," says Santa.
Lile, 6, who has just visited Santa, can't hide her excitement. Clutching a present received from her favourite old man she admitted with a smile that she had imagined Santa to be exactly like he was. Unlike Lile, Elene, 6 seemed a little disappointed with her present. "I like the doll very much but I wished I could have received a Barbie house for New Year," she states.
"I hope for all the best from 2009. I have just come to the New Year Village. First of all I'm going to visit Santa and tell him a rhyme to get a present. Then I'll enjoy the other entertainments offered here," says nine-year-old Mari.
Not only kids but their parents are also excited about the upcoming celebration. "I'll try to forget all the problems for New Year. Today I'm here with my child. I like all this entertainment arranged in Tbilisi and I wish all the best to everyone," says Nana Chologava.
There are lots of different projects planned for New Year. Concerts, puppet shows for children and other kinds of entertainment. Seemingly no one is going to be bored.
The New Year: good enough so far
New Year is a public event in Georgia. Shops and trading centres in Tbilisi have already started their New Year sales. Preparation for this, including special offers, starts from early December. Most of the shop owners are content with their trade, saying that people seem to be keen on giving presents to each other to create a festive mood.
Presents differ according to peoples' mood and temper. But nowadays Tbilisi can somehow satisfy all kinds of demands, from small New Year toys to expensive accessories such as sunglasses which are always popular in any season.
"We are preparing for the New Year as well as we can. We wish the whole country and Tbilisi peace and stability. Our shop used to have very successful New Year trade but this time we can't boast so much. I don't know why, perhaps it is because of the economic situation in the country," said the manager of sunglasses store Kenari, Ia Pantsulaia.
Some people prefer intellectual gifts. There are lots of interesting and impressive book stores in the capital offering a variety of books for all age groups. Shops for children, such as Pepela, are generally satisfied with their income from New Year shoppers. The shop offers a variety of items from books to toys. The majority of things sold there are for children, and as its staff say parents try to make their children happy for the New Year with different presents.
"Most of the presents sold for New Year are the creative types of toys, modelling and sculpturing materials, books and so on. Every year we announce a 10% sale on our goods, making the products more accessible for consumers. I dare say that this New Year season has been very profitable for us," stated a shop assistant in Pepela.
New Year is a family event and it is not surprising that most people will spend New Year's Eve at a small festive table enjoying traditional Georgian cuisine with their relatives. But young people often like to break the chain and greet the New Year with their closest friends in clubs or pubs, listen to their favourite music and dance till they drop.
"This year will be absolutely different for me. I have fallen in love, which means that I'll have an unforgettable evening in a bar with my boyfriend. We will enjoy snack food and drinks and dance till the morning," states 24-year-old Nino, a sociologist. "I'm going to Gori with my friends. We're going to greet the New Year in a restaurant there," notes Giorgi, a twenty-one year old student.
People admit that in spite of the excitement the New Year usually brings everyone, this year the good mood isn't general. "I have high spirits for the New Year. My wish to everyone is more optimism than we have now," said Vakhtang Kvinikadze, encountered by The Messenger.
A New Year without people making wishes can't be imagined. Everyone has their private dreams which they wish on New Year's night to be fulfilled. Some have universal wishes such as freedom, independence and love, some have more private wishes such as a modern car or bicycle and others even wish to have a magic stone which will grant all their wishes.