Parliament approves Budget 2009
By Mzia Kupunia
Monday, January 5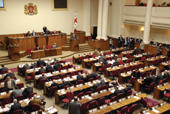 The Georgian Parliament approved the budget for 2009 by 102 votes against 13 on December 30. The Government says the GEL 6,844.8 million budget is "socially oriented" and includes some additional GEL 179 million for "various social expenses", the Georgian media has reported.
Speaking in Parliament on December 30, Georgian Finance Minister Nika Gilauri said the Government would work to ensure that the current 13-14% level of unemployment does not increase next year, adding that "it will be hard to achieve." Gilauri did not specify exactly how much the Government is planning to spend to combat the factors which would increase unemployment, despite requests from the Parliamentary minority. "It is impossible to make an exact forecast of how many jobs will be lost on a daily or monthly basis. I repeat once again that our efforts are aimed at not going beyond 14% unemployment next year," Gilauri was quoted as saying.
The Finance Minister also told lawmakers that the budget forecasts 2.5 % economic growth in 2009.
Funding for the Georgian Parliament, Georgian Public Defender's Office and Georgian Orthodox Church will increase, as will that of the Health and Education Ministries, whereas the funding of the South Ossetian Provisional Administration and the Central Election Commission will be cut.
The Parliamentary opposition criticized the budget, slamming the "lack of consistency in the Government's economic policy." Giorgi Targamadze, one of the leaders of the Parliamentary minority from the Christian Democratic Party, said he supported the reduction of income tax by 5% but this would not be very effective. Targamadze said he was offering to reduce Value Added Tax from the current 18% to 15%, saying that "this will have a much more positive effect on the economy than reducing income tax."
The 2009 budget forecasts annual inflation of around 9 % and a GDP of GEL 4. 848.7 per capita.