Parliamentarians spread New Year cheer
By Salome Modebadze
Monday, January 5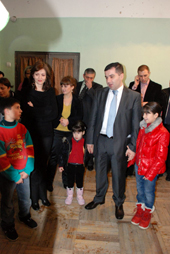 On December 31 2008, Davit Bakradze, Chairman of the Parliament of Georgia, congratulated the Georgian nation on the New Year and wished them all the best in 2009.
"I wish the whole country a Happy New Year and hope that 2009 will be a year of advancement, welfare and integrity. I wish everyone peace and the achievement of their long-wished goals. Let 2009 be the year of peace and development for each and every person in the country," Bakradze stated.
The Chairman of Parliament visited the Lampioni Family Type Rehabilitation Centre along with his family to wish the homeless children a Happy New Year and give presents to them. Lampioni has been open since November 1, 2001 and is designed to cater for 50 children from mainly socially unprotected families. The happy children met the Chairman warmly as he personally distributed the presents among the children.
Some other encouraging visits by public figures took place on December 31. Rusudan Kervalishvili, Deputy Chairperson of Parliament, visited the free canteen for IDPs of the Airport District, giving them New Year presents and sweets; the Family Dignity Kits, for IDPs, provided by United Nations Population Fund (UNFPA) were distributed to the vulnerable population.
Kervalishvili further visited the homeless children of Isani-Samgori District along with Mikheil Machavariani, First Deputy Chairman of the Parliament of Georgia. Machavariani and Kervalishvili wished the children Merry Christmas and a Happy New Year and gave them presents in the name of Parliament.
Mikheil Machavariani also visited the Digomi Children's Home and gave presents to the children with wishes for their good health and the hope that their dreams would be fulfilled.