Georgian shows us how to get our clicks
By Rumwold Leigh
Tuesday, January 6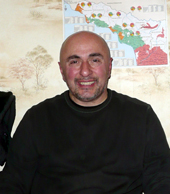 Ever wondered how those internet shopping carts work? How they send the goods you have ordered to the shipping address you give them, take the money off your card safely and securely and process all the orders correctly? It all depends on the software. Few people know it, but Georgia is a market leader in this field.
Merab Tsereteli is the Marketing Director of Online Shop Solutions, which claims to offer the best e-commerce shopping cart software in the world. Certainly its credentials are impressive. Merab has ten years IT experience in the USA and since founding his company in 2006 it has developed an international reputation. Merab's clients include major concerns such as IBM, the US Defense and Education Departments, Blue Cross Blue Shield, AT&T and Oxford Pharmaceuticals. Its products, marketed under the Shop Factory brand, have frequently been recognized as the best of their kind and are used by over one hundred million people.
There are two Shop Factory packages currently on offer, Shop Factory Gold and Shop Factory Professional. Shop Factory Gold is readymade, purpose-built software which can be used by any type of shopping cart store. Easy for a company to apply and use to sell its products with, it has won more awards than any other shopping cart software. Shop Factory Professional is a programme for those who wish to build and maintain their own unique shopping websites. The software takes companies through every aspect of creating cart sites which cover every possible e-commerce option they may wish to use or offer. Over 200,000 online stores incorporate Shop Factory Professional software, which like Shop Factory Gold has won several awards and is a recognized leader in its field.
Online Shop Solutions has built over 226,700 shops to date. It is not difficult to see why, as every company would like more customers to purchase more products in the most convenient way possible, and what better way to do this today than on the internet? The software is complete and simple, enabling companies to add new products to their online stores quickly, and edit and customize information with templates or in their own style. Shop Factory software can assist with tax, shipping, discounts, options, payments, search engines and every other aspect or setting up a profitable and viable shopping website which hugely expands a company's customer base and helps build long-term relationships between traders and armies of satisfied customers.
Merab told
The Messenger
, "I want to bring top quality 21st century software from the US to Georgia, because Georgia today is a new democratic country, in a new region for developing top quality IT businesses. I can assist and make presentations for all companies interested in this most incredible software. Buy it, and you'll find out why it wins all those awards and why over one billion people view these sites every year."