United Telecom is robbing people, says Labour
By Sopo Datishvili
Tuesday, January 6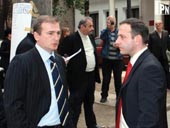 The Labour Party begins the year with a protest against United Telecom Georgia raising the telephone tariff. Its customers will have to pay GEL 8 instead of GEL 5 per month for fixed line rental from January 2009.
United Telecom is going to raise the tariff in different parts of Georgia. Customers in Tbilisi, Telavi, Marneuli, Signagi, Gardabani, Gori, Khashuri, Kareli, Kaspi, Borjomi, Zestaponi, Samtredia, Kharagauli, Senaki, Khobi, Ozurgeti, Poti, Abasha, Lanchkhuti, and Zugdidi will be obliged to pay the new GEL 8 fee as these areas now have digital telephone exchanges. The rest will pay GEL 5 as before. In Rustavi and Kutaisi customers will pay GEL 4 a month.
The Political Secretary of the Labour Party, Giorgi Gugava, said at a press conference on January 5 that UTG is controlled by Minister of Culture Nika Rurua. He added that the party would appeal to the Communication Regulation Commission (CRC) and ask it to stop UTG "robbing people," especially in such difficult economic conditions. Gugava said that if the Commission doesn't take measures to return the fee to its previous figure, the party will blockade the CRC headquarters.
Marketing Manager of UTG Goga Kipiani denied the accusations of the Labour Party and told The Messenger that UTG is a Joint Stock Company and any information about its shareholders is public. He added that the Labour accusations are extremely political, and it is therefore difficult for a private company to comment on them.
Kipiani also said that the tariff change has advantages as well as disadvantages. Although the amount the customers pay will increase, a number of new services will now be included in the charge. "Customers will be able to talk to each other throughout Georgia free of charge, without any extra fee for a minute's talk. This year we adopted the new digital stations which gave us the opportunity to suggest to our customers many new services. The customers will receive all these new services without additional charge as well," said Kipiani.
UTG confirmed that its wireless telephone tariff will remain unchanged, at GEL 5. There are about 30,000 such subscribers in Georgia. UTG believes the new tariff is flexible for everyone as people will have to pay only a once a month, fixed sum, without any added fees. The company says that its customers will only have to pay for such services as conference connections, hidden number and number detector.