Russian official sums up his visit to Georgia
By Temuri Kiguradze
Tuesday, January 6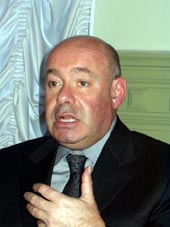 Mikhail Shvydkoi, a counsellor of ther Russian President, has accused Georgia of making groundless allegations against Russia after his visit to Tbilisi at the end of December.
Speaking to the Russian
Echo Moskvy
radio station on January 1 Shvydkoi accused the Georgian Government of being incapable of finding a common language with Abkhazia and South Ossetia. This, according to him, led to the August 2008 conflict in Georgia. "You can talk about anything you want, but when [Georgia's first President] Gamsakhurdia came into power he said "Georgia is for Georgians." You can put this statement in any context you wish but it was heard by Abkhazians and Ossetians. It was a very important moment. Also, when sides want to negotiate they do negotiate. It was possible to have started a real negotiating process during these 16 years [of the conflicts]. However I clearly understand that this [the August conflict and the recognition of the republics by Russia] is a drama for Georgia," Shvydkoi said, adding that Russia shouldn't be blamed for the August war.
Shvydkoi came to Tbilisi on December 25 to attend the jubilee of the enthroning of Georgian Patriarch Ilia II. He called the Patriarch a "real soul leader of Georgia" and delivered to him a letter of congratulation from Russian President Dmitry Medvedev. He also stated that "there is no problem" in the relations between Georgian and Russian people.
Shvydkoi answered a question from a listener to the radio station who asked "Do Georgians look like humans or are they just well-dressed beasts?" He answered that Georgians and Russians are "brother peoples" united by their culture and dominant religion. Shvydkoi also spoke about an interview given by Vakhtang Kikabidze, a famous Georgian actor, singer and public figure, who rejected an honour bestowed by the Russian President and slammed his Russian friends for keeping silence when Russia was bombing Georgia. Medvedev's counsellor considered that this action was not supported by the majority of Georgian intelligentsia.
Shvydkoi's visit is the first to Georgia by a high ranking Russian official since the August conflict. He refused to give any prognosis of future relations between the two countries, stating that "We should understand one thing –politics and life are different things. We shouldn't refuse to live because of politics. The visit of the Georgian Patriarch to Russia for the funeral of [Russian Patriarch] Alexey II and the visit of Russian delegation to Georgia are important in ensuring that people's diplomacy takes the first positive steps in Georgian-Russian relations," he said.
During the August war Russian troops entered other parts of Georgian territory from the Georgian breakaway region of South Ossetia. The Georgian Government declared a significant chunk of its territory to be "occupied" by Russia. On August 26 Moscow recognized Georgian separatist regions Abkhazia and South Ossetia as independent states; this action was strongly condemned by the international community, including the USA, EU and OSCE.