Moscow and Tbilisi sign an agreement on energy
By Temuri Kiguradze
Monday, January 12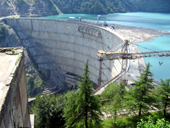 The Georgian Ministry of Energy and Russian electric company Inter RAO signed an agreement on the exploitation of the Enguri hydropower plant on January 10.
"The sides have, in particular, agreed to develop a programme of measures [for the effective exploitation of the Enguri HPP]. According to the provisions of the signed document, this should be at least a ten-year programme," says a statement published on the official webpage of Inter RAO. It adds, "Russian company representatives have held preliminary talks with the leaderships of the Georgian and Abkhaz energy sectors. The document signed in Tbilisi is deemed by the participating parties a success, in the light of the importance of the Enguri HPP in supplying electricity to the entire Caucasus region and the southern Russian Federation."
The agreement has not been commented on by the Georgian side as yet, however when talking to Georgian journalists a spokesperson for the Energy Ministry promised to organise a press conference on this issue in "the next few days."
The Enguri hydropower plant is the biggest in the whole Caucasus region. It is located on Georgian-controlled territory near the border with Georgia's breakaway region of Abkhazia. It was built back in 1977 and is able to produce 4.5 billion kilowatt hours of electricity annually. Under a previous agreement between Tbilisi and Sokhumi 40% of the electricity generated by the Enguri power plant is consumed by separatist Abkhazia and southern Russia and the other 60% transferred to the territory controlled by the central Georgian Government. The staff of the power plant consists of technicians of both Abkhazian and Georgian ethnicity.
Deputy Assistant Secretary Matthew Bryza, speaking in Tbilisi in December 2008, quoted the Enguri power plant as one of the rare examples of cooperation between Georgia and representatives of the breakaway Abkhazia.
"I think we need to pay particular attention to the power station and dam on the Enguri river. The Enguri hydroelectric station is the best example that exists today of Abkhazia and the rest of Georgia cooperating on a project that is vital to both. So it is crucial that all provocations in that area end, and that we use the Geneva process to then reduce the level of tension and get to a point where the sides can have a civilized and constructive dialogue," stated Bryza.