Georgia and US sign Strategic Partnership Charter
By Mzia Kupunia
Monday, January 12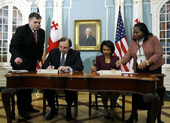 Georgia and the US signed a Charter on Strategic Partnership on January 9. The document, which has already been called "historic" by the Georgian officials, envisages cooperation in the fields of security, economy and culture and confirms US support for Georgia's territorial integrity and its NATO membership plans.
Georgian Foreign Minister Grigol Vashadze, who signed the document in Washington, said that it was exactly "what Georgia had been aspiring to for a long time." US Secretary of State Condoleezza Rice called Georgia "a valued partner" for the United States. "I know this Charter will help our nations realize our shared goals of creating a more secure, democratic and prosperous world," she said.
The Charter, which according to the US and Georgian authorities is based on "shared values", outlines several priorities in relations between Tbilisi and Washington. It says that the parties plan to "undertake a programme of enhanced security cooperation intended to increase Georgian capabilities and to strengthen Georgia's candidacy for NATO membership," and that both countries "intend to expand the scope of their ongoing defence and security cooperation programmes." The Charter also includes a section about cooperation in the fields of economics and energy security, as well as a paragraph that pledges "cooperation to bolster an independent media, freedom of expression and access to objective news and information."
The signing of the Charter has received a mainly positive response from representatives of the Georgian opposition. Both the Parliamentary and non-Parliamentary opposition have called the document "important", but they say it is not as important as the Georgian Government has been portraying it. Some non-Parliamentary opposition leaders, including Tina Khidasheli from the Republican Party and Kakha Kukava from the Conservative Party, have also criticized the Government for not making the document public before it was signed.
According to Manana Nachkhebia from the New Rights Party it is important that there is no paragraph in the document about deploying US military bases on the territory of Georgia. This issue had been actively discussed in opposition circles since the plan to sign the Charter was first unveiled. "Strategic partnership with the USA is an extremely important issue, however the Georgian authorities are using this to promote themselves," Nachkhebia said. Zurab Tkemaladze from Industry will Save Georgia downplayed the importance of the document, saying that the Charter represents nothing more than "the relations and the mood of the Governments of the two countries."
Georgian President Mikheil Saakashvili has hailed the signing of the Charter on Strategic Partnership, adding that "it is a very important step forward in strengthening the positions and security of Georgia, as well as the well being of the Georgian people. For the first time in its recent history Georgia has started establishing itself as part of international society," the President added, concluding that "Georgia is getting significantly closer to the Euro-Atlantic space."