Russia will buy electricity for Abkhazia
By Temuri Kiguradze
Tuesday, January 13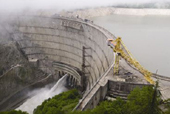 Georgia will receive 15 million GEL each year from Russian energy company
Inter RAO
for providing electricity to its breakaway region of Abkhazia.
According to the memorandum "On the United Management of Enguri Power Plant" signed between Tbilisi and
Inter RAO
in late 2008, Enguri will also sell electrical energy to the southern regions of Russia, adding an additional 25 million GEL annually to the national budget.
Speaking at a press conference in Tbilisi on January 12, Georgian Energy Minister Alexander Khetaguri said that the new agreement will also give Russia the possibility of exporting electrical energy to Turkey via Georgia. "This will bring Georgia additional income and will enhance the technical stability of the electricity system," stated Khetaguri.
Enguri Hydropower Plant (HPP) is the biggest HPP in the Caucasus region, located on the administrative border with the separatist region. The plant provides about 45% of the total electricity consumed by Georgia. Until now Abkhazia has been receiving electricity from Enguri free of charge. The staff of the HPP are technicians of both Abkhazian and Georgian ethnicity.
Khetaguri stated that initial agreement on the terms of the memorandum was reached in October 2008. "We have had successful relations with
Inter RAO
and these relations will continue," the Minister said, adding that the joint management of Enguri will increase the security of HPP staff. The Energy Minister also stated that the new agreement doesn't mean the power plant will be controlled by the Russian side. HPP will be controlled by a council consisting of representatives from Russia and Georgia chaired by a Tbilisi-backed individual. "100% of the shares of the Enguri plant are, and still will be, possessed by the Georgian state," said Khetaguri.
Khetaguri said that the memorandum itself did not represent a legally binding document. A contract, which, he said, was currently being elaborated, would lay down the legal commitments of the parties implied by this memorandum. Khetaguri said that he expected this contract to be ready in less than two months.
The Georgian Energy Minister said that Tbilisi agreed to sign the memorandum after the Russian side offered "acceptable proposals." Khetaguri noticed that the agreement will allow Georgian technicians to access the generators of Enguri which are located on territory not controlled by the central Georgian Government. He also said that the Russian company's involvement would alleviate potential "security risks posed to the Enguri HPP by Abkhaz separatists," because the Russian company was itself becoming more interested in the proper operation of the plant.
Inter RAO
's assets in Georgia would represent a guarantee behind the Russian company's commitments to Enguri HPP.
Russian stated-owned company
Inter RAO
owns 75% of the Telasi power distributor in Tbilisi and two thermal power generating plants, the 9th and 10th energy blocks.
Inter RAO
also owns the management rights to two Georgian HPPs – Khrami I and Khrami II.
The memorandum with Russian side was signed on December 28, however there were no official statements made regarding this issue at that time. Members of the Parliamentary opposition have already said that the Energy Ministry will need to make a better explanation than hitherto for its decision to strike a deal with a Russian company. "We will summon the Energy Minister to explain the details of the deal," MP Levan Vephkhvadze of the Christian Democratic Party said on January 12. "We will have a tough conversation."