PM denies rumour of his resignation
By Mzia Kupunia
Tuesday, January 13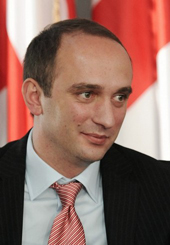 Georgian Prime Minister Grigol Mgaloblishvili held his first Cabinet session early on Monday after two weeks of undergoing medical treatment in Germany. The Prime Minister began the session by commenting on media coverage of his health condition. "I am sorry that the treatment lasted longer than planned, and I am more sorry that this created speculation in the Georgian press. When I read the rumours in the Russian press I laughed, but when I found the issue of my health was being discussed with such enthusiasm by the Georgian press and some politicians this was not funny to me at all," Mgaloblishivili said.
The Prime Minister left for Germany on December 31 on the recommendation of doctors, according to Georgian officials. Some media outlets in both Georgia and Russia suggested that Mgaloblishvili had filed his resignation because President Saakashvili had allegedly punched him and thrown a mobile phone at him. Georgian officials strongly denied these rumours then, saying that the Prime Minister was having kidney problems.
Mgaloblishvili told the Cabinet that his health was good at the moment and that the Government would continue working as usual. He outlined several priorities the Cabinet will need to address. "Jobs should be maintained by all means and everything should be done to pull Georgia out of economic crisis in this hard period," the Prime Minister said.
Minister for Economic Development Lasha Zhvania voiced an initiative to reduce the number of Deputy Ministers in his department, saying that "five Deputies rather than seven are absolutely enough if we work effectively." Zhvania also told journalists about the plan to create Monitoring and Export Promotion Departments in his Ministry. He said the Export Promotion department would be a temporary one, later transformed into an independent agency. "This body will ensure more coordinated cooperation between the Government and entrepreneurs," Zhvania said.
Georgian Defence Minister David Sikharulidze confirmed that the Cabinet had granted financial aid of GEL 5,000 to the families of soldiers lost during the August war. The Minister said there are nineteen such families, who should receive this support from next month.