Switzerland to represent Georgia's interests in Russia
By Mzia Kupunia
Tuesday, January 13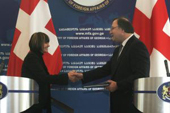 Georgia and Switzerland have agreed that Switzerland will protect Georgia's interests in Russia, Georgia having broke off diplomatic relations with its Northern neighbour after the August war. Georgian Foreign Minister Grigol Vashadze and the Head of the Swiss Federal Department of Foreign Affairs, Micheline Calmy-Rey, exchanged notes on this subject on Monday. Russia and Switzerland made a similar agreement earlier in December, under which Switzerland will represent Russia's interests in Georgia.
"We know the Swiss Confederation has extensive experience of providing such services to countries without diplomatic relations and we are very happy that a country with this expertise will represent Georgia," Vashadze said at the meeting. Micheline Calmy-Rey aded that Switzerland is a neutral country and will be able to represent the interests of the citizens of both Russia and Georgia.
According to the Georgian Foreign Minister some procedures still need to be followed before Switzerland starts representing the interests of Russian and Georgian citizens in the two countries. The Swiss Embassy in Georgia will have nothing to do with issuing Russian visas, which will be issued by the Russian Council headquarters in Tbilisi.
Before the exchange of notes at the Ministry of Foreign Affairs, Micheline Calmy-Rey received the report of the EU and OSCE observer mission in Georgia, Georgian media reported. Calmy-Rey also visited Gori and the village of Karaleti, damaged during the Russian-Georgian conflict.