New plan may save the OSCE Mission in Georgia
By Ernest Petrosyan
Thursday, January 22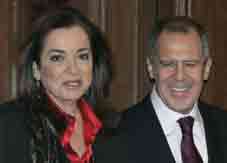 On January 21 the current OSCE Chair, Greek Foreign Minister Dora Bakoyannis, met her Russian counterpart Sergey Lavrov. One of the important topics they discussed was the continuation of the OSCE mission to the Georgian conflict regions. Dora Bakoyannis presented a new initiative concerning this to her Russian colleague.
After the negotiations the Foreign Ministers held a briefing. Bakoyannis stated that Greece has a plan which it will present at the next OSCE session. "We have been working on this issue for a very long time, but no agreement has been reached yet. The Greek side has presented a plan which will not cross the red line of either side," she stated. Lavrov concurred that "The plan formulated by our Greek colleagues is realistic and moving in the right direction. The Russian side is ready to work in this way, taking into account de facto circumstances as well as both the Georgian and South Ossetian positions," stated Russian Foreign Minister Sergey Lavrov.
The Georgian authorities state that the OSCE will continue its mission only if it is called the Mission to Georgia, as it is at present, and not a mission to Georgia and South Ossetia separately as the Russians have demanded. Deputy Foreign Minister Alexander Nalbandov has stated that the Greek plan which involves an OSCE security and stability mission in Vienna, an OSCE mission to Tbilisi and a support mission in Tskhinvali. Nevertheless the Russian side will do everything to block the OSCE Mission to Georgia in any form.
"It is very good for us to have as many international observers in Georgia as possible, who will conduct transparent monitoring of Russian actions. Unfortunately it is very difficult to trust Russia's desire for 'constructive co-operation,' because Russia has vetoed the OSCE mission and will do the same to the UN mission," Akaki Minashvili, the Chairman of the International Relations Committee of Parliament has commented. Deputy Chairman of Parliament Levan Vephkhvadze added: "The Georgian approach is that there should be a mission to Tskhinvali (Georgia) which will be part of the mission to Georgia. The only compromise can be a mission to Tskhinvali (Georgia) and not South Ossetia. It is very important to maintain the OSCE Mission to Georgia since OSCE is a prominent international organization."
Analyst Mamuka Areshidze says it is difficult but possible to persuade Russia to agree to continue the OSCE mission in a format acceptable for Georgia. International organizations' observers will work in Georgia in some way regardless and Russia might therefore compromise with the OSCE.