President seeks expert opinion
By Etuna Tsotniashvili
Friday, January 23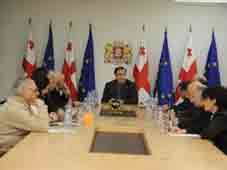 As part of the work of the Anti-Crisis Council Georgian President Mikheil Saakashvili met a group of political analysts on January 21 and offered to create "a broad coordination council," involving a group of experts, to help the Government overcome the economic crisis.
"Recently we have been working very hard in order to avoid suffering the devastating consequences of the world economic crisis," Saakashvili told the analysts. "We want to know your opinions on this issue," he said, and added that it is especially important to listen to people who address this issue day by day and discuss it on TV and in the press.
Saakashvili highlighted that both positive and negative opinions should be listened to as this makes such meetings more interesting. "Despite our different and sometimes opposing political opinions, we all are citizens of this country and we all have one major goal – a strong, united, independent Georgia. We all want, in addition, to insulate our country from the effects of such a heavy economic crisis," Saakashvili told the analysts.
The meeting, which lasted about four hours, was attended by some figures who are famous for their negative attitude toward the current authorities. Political analyst Ramaz Sakvarelidze, one of those who attended, said that he is not sure that Saakashvili will actually take into account the experts' opinions and ideas while making a decision.
"The meeting with the President was interesting because we shared our opinions with each other. I have known the President for a long time and I have always known that he has no difficulty talking about difficult issues. It has been said that such meetings will continue but in which format is not yet clear," Sakvarelidze said.
Political analyst and former Ambassador of Georgia to Russia Zurab Abashidze said that such meetings are useful and interesting because not only international issues but internal were discussed. He said that Georgia's relations with its neighbours and the work of international organizations, in particular the European Union, in the conflict zones are the acute challenges facing Georgia now.
Abashidze also added that as Russia violates international law and ignores its commitments under the ceasefire it signed, moreover recognising as 'independent' Georgia's breakaway regions, it is impossible to resume diplomatic relations with Russia. He said that the Government would not forbid interrelations between private persons and companies in Georgia and Russia but until Moscow's position towards Sokhumi and Tskhinvali changes, it is impossible to restore interstate relations.
The meeting between the President and the analysts was held behind closed doors. According to the President's Press Centre the main themes of the discussion were the Russian-Georgian war and the world financial crisis.