Georgia denies Russia's "impudent" request
By Mzia Kupunia
Friday, January 23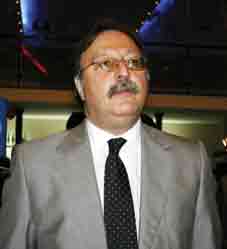 Georgia has declined Russia's request that it be allowed to inspect Georgia's military infrastructure, as envisaged in the OSCE's 1999 Vienna Document. According to a statement issued by the Georgian Ministry of Foreign Affairs on Thursday, Georgia declined the request on both January 19 and January 21, claiming a state of force majeure applied in regard to Russia, a reference to its military occupation of Georgian territory. The Vienna Document on confidence and security-building measures says an OSCE member country can reject an inspection if it gives "force majeure" as the reason.
Georgia claims that force majeure applies only to Russia and not any other state. The Foreign Ministry has outlined its reasons for rejecting the Russian request. "No guarantees or assurances exist that the Russian Federation will not try to carry out further aggressive actions, or that information obtained via the evaluation visit and inspection would not be used to the detriment of the national security of Georgia," the statement reads. The Foreign Ministry statement also says, "the claim of force majeure will be removed only after the full de-occupation of the occupied parts of the territory of Georgia, including Abkhazia and the Tskhinvali region."
Georgian Foreign Minister Grigol Vashadze announced the Georgian Government's decision and the reasoning behind it to the diplomatic corps later on Thursday. After the meeting foreign diplomats expressed their views on the situation.
The Head of the European Commission delegation in Tbilisi, Per Eklund, who attended the meeting with Vashadze at which he made the announcement, said that Georgia has a strong argument. "Taking into account the situation here with Russian troops on Georgian soil, they have a case and I think they used the right argument," he told journalists.
MP from the ruling National Movement Mikheil Machavariani said force majeure was cited in the interests of the Georgian state and the Georgian people, and that Russia's demand was "unacceptable." "We are ready to accept [an inspection by] those 55 OSCE member countries which supported the continuation of the OSCE Mission's mandate in Georgia, but we cannot accept such a thing from the aggressor, whose troops are illegally deployed in Georgia," Machavariani stated.
The Parliamentary opposition has also expressed its support of the Georgian Government's decision, calling it "logical". The chairman of the opposition Strong Georgia faction, MP Gia Tortladze, said Russia's demand to be allowed to inspect military objects in Georgia is "impudent". "It is impossible to talk about meeting any agreements until Georgia's territorial integrity is fully restored and the last Russian soldier has left the territory of Georgia," Tortladze said.