The first live Q&A session with President Saakashvili
By Etuna Tsotniashvili and Temuri Kiguradze
Monday, January 26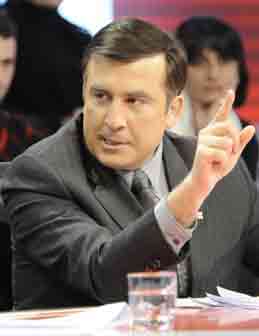 In a first time, marathon Q&A session broadcast live on Georgian television on January 23, Georgian President Mikheil Saakashvili spoke on war and foreign affairs, social problems, the opposition, former allies, and the August War in response to questions posed by members of the public.
Saakashvili on war and foreign affairs
Saakashvili declared that Georgia has an ultimate enemy, represented by Russian Prime Minister Vladimir Putin. Saakashvili once again laid the whole responsibility for the August Russian-Georgian war on Putin, comparing him to the Persian Shah Abbas, whose seventeenth-century invasion of Georgia left numerous dead.
"Our goal is to preserve Georgia's statehood, if our statehood survives territorial integrity will be restored and our enemy knows it very well. Our enemy has not achieved its goal of destroying our statehood," Saakashvili said, adding that "the enemy" has not yet ceased its efforts to undermine the Georgian state. The Georgian President also promised the Georgian people however to restore territorial integrity through "peaceful efforts" and the help of the international community. He said that Georgia has a real opportunity of regaining control of breakaway Abkhazia and South Ossetia because the international community is not rushing to recognize the 'independence' of the separatist territories. The only countries who have recognized them are Russia and Nicaragua. The Georgian President called his Nicaraguan counterpart Daniel Ortega a "madman."
He also said that Russia still wanted "to have a reason" to attack Georgia again, "but they will fail." He added however that amid the "collapse of the Russian economy" he though the chances of renewed Russian aggression were slim. "But such a possibility of course always exists," Saakashvili continued. "Day and night they are thinking about publishing something terrible about Saakashvili, trying to confirm that he is crazy, to cause an internal mess in Georgia and discredit us in the international press. Our war will be over when the occupiers leave Georgian soil. Our struggle continues," the President said.
Commenting on the role of international organizations in conflict resolution, Saakashvili noted his dissatisfaction with the activity of the UN mission in Georgia. "I have seen with my own eyes in Zugdidi in August - when I arrived there and wanted to go to Kodori (region of the breakaway Abkhazia) - the Russian tanks approaching [the bridge on the] Enguri [river] where the UN observers were standing. The Russians told them: we give you 20 minutes to get out of here; they ran away in ten minutes; they ran away so quickly that we in fact appeared besieged by the advancing Russian military contingent," Saakashvili said. "If I had not seen with my own eyes how ineffective this mechanism is, I would have felt very sorry [about the possible end of the mission]. I wish this mechanism to be maintained but I also want to say that unfortunately it is very ineffective," he added, noting that "unfortunately Russia has the right to veto UN and OSCE missions."
Speaking about other international observers – those of the EU monitoring mission (EUMM) – the Georgian President stated that he welcomes their staying "at least because their presence might prevent press reports that Georgia is staging provocations. Russia is paying money [for these kind of articles to be published]," he said. "Money works not only in the Georgian press, it works in the world too."
Mikheil Saakashvili considers the support of the USA authorities for Georgia will not change with the advent of the new White House administration. "I liked Obama's [inauguration] speech very much," he said. "In private conversations Obama often compares himself with Ronald Reagan. This is a very promising thing for me. I had a very warm conversation with him after his election and I plan to talk with him again in the coming days. For us a strong America is a natural ally in all circumstances. Unfortunately by the end of the Bush administration, the United States was perceived by Europe and Russia as extremely weak." He added however that "of course the address by weakened Bush" in August helped to stop Russian tanks moving into Tbilisi. "A strong America is a very effective partner for Georgia. I am very optimistic in this regard," he added.
Saakashvili does not plan resignation
The President stated that he does not plan to resign or call snap elections. He did not exclude that his resignation in 2007 November, after the perpetual opposition rallies and the declaring of a state of emergency, may have been a mistake. He added that it will not happen again during his Presidency.
"By such a step I gave the opposition the illusion that they could apply a bit of pressure and thus make the President resign. No way! It will not happen again… My Presidential term expires in 2013, after which I will leave the post on my own initiative," Saakashvili stated, though acknowledging that a lack of dialogue with society prior to the November events was also the authorities' mistake.
The President accused the opposition of conducting unreasonable politics and said that the 2007 November events and consequent elections had cost Georgia a minimum of USD 2 billion in lost foreign investments. "Now they [opposition] state that the President should resign in spring, and the investors will be lost again. That's why I think that my resignation in 2007 was a mistake. Such a step gave those people a hope that as soon as someone financed them and asked them to do something, they could change the Government," Saakashvili said.
Answering a question on why some of his former allies have joined the opposition, the President said that "They were all dismissed" and had not left the Government on their "own will." He said that those concerned had only attacked against him after their sacking. "Did you ever hear them speaking out while in the Government?" Saakashvili asked. The President outlined that his team is very strong and solid and united around key principles, and there is no place in the team for those who do not follow them.
"Our team is very solid; the principles of this ruling group have not changed for five years. What are these principles? – that there should be no corruption and that nobody can say in Georgia that the ruling team is corrupt. Nobody can ever say that there is a ruling team in Georgia, which does not listen to its people and does not serve its people. This is not just a clan loyal to Saakashvili himself," the President said. "If somebody fails to adapt to these principles, he should be dismissed from the Government immediately," he added. Over the last 3 years several former allies of the President, such as former Speaker of Parliament Nino Burjanadze, former PM Zurab Noghaideli, former Minister of Defence Irakli Okruashvili, who was considered to be a close friend, former Foreign Minister Salome Zourabichvili and Former Ambassador to the UN Irakli Alasania have joined the opposition.
Public Defender and media freedom
Talking about the Ombudsman and his office, Saakashvili said that the Public Defender's office had become politicized and claimed that the latest report prepared by the Ombudsman had nothing to do with human rights but was simply a political programme, although everyone has the right to have such a programme. The President said that the Ombudsman plans to go into politics and has a right to do so but should not therefore masquerade as an objective Public Defender now he has taken a political stance.
The President dismissed criticisms of a lack of a free media, although said the authorities were committed to taking more measures to further improve the media environment. Saakashvili said that many opposition leaders were complaining about a lack of media freedom and freedom of speech "while speaking live on television. This is ridiculous," he said.
No 'August events'
Saakashvili said he has prohibited state officials from using the term 'August Events,' as it is a shameful one.
"The term 'August events' is used very often. It is a Russian term and this is shameful," the President said after a journalist used this term in her question. Saakashvili warned that if any officials use this term they will be dismissed from their posts.
"About which August events are we talking? Why we are depriving our soldiers of the status of heroes? 'August Events'- it was not a flood or earthquake, it was the Russian intervention, the biggest one in Georgia's history since Aga Muhammad Khan…. what happened in Georgia in August was a war, a war for the freedom of Georgia, and it is continuing," Saakashvili added.
The Georgian opposition has reacted negatively to the President's question and answer session. "That lie, farce and cheat" was the evaluation of the leader of the opposition New Rights Party, David Gamkrelidze, which together with several other non-Parliamentary opposition parties conducted a protest rally outside the Public Broadcasting Television building in Tbilisi on January 23. David Usupashvili, leader of the Republican Party compared Saakashvili to Putin, who is known for conducting the same kind of televised session. "Saakashvili has not only taken the idea of real time sessions from Putin but has completely adopted the Putin way [of governing]," Usupashvili told journalists. Nino Burjanadze has said that she even didn't watch the show. "When I believed in his [Saakashvili's] honesty I was standing next to him, but after I lost this faith I ended up where I am now," said Burjanadze.
Representatives of opposition parties have repeated their demand for the resignation of the President. Saakashvili addressed this issue by comparing himself with former US President George W. Bush, saying that "Bush was a very unpopular President in the USA, however no one tried to make him resign there."
"I'm not going to die or leave; that's why our meetings in this format will continue," said Saakashvili to conclude his televised session.ss