Saakashvili names fifth PM in five years
By Etuna Tsotniashvili
Monday, February 2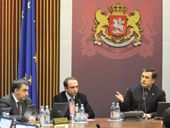 On January 30, Georgian President Mikheil Saakashvili named Nika Gilauri as the fifth Prime Minister of his five-year rule after Gega Mgaloblishvili resigned, citing health problems.
"Today Georgia cannot afford to have a PM who cannot work in his usual mode for three months. The country needs a Cabinet and Prime Minister capable of working round-the-clock," Mgaloblishvili said at a press conference on Friday, adding that he still needs two months of intensive treatment.
Mgaloblishvili thanked Saakashvili and added that he could rely on his support after his recovery. Recently however the Georgian media has reported that distance has emerged between Saakashvili and Mgaloblishvili. Both the Georgian and Russian media reported last month that Saakashvili hit Mgaloblishvili during an argument. However in his recent live question and answer session Saakashvili publicly denied this, and Mgaloblishvili said on Friday that "The President made a detailed comment on this, I don't think I need to comment further."
Mgaloblishvili stated that he had suggested to the President that he consider nominating Nika Gilauri, the Finance Minister and first Vice Premier, as his replacement. Saakashvili confirmed the nomination on the same day.
"We have carried out a mechanical reshuffle. The first Deputy Prime Minister becomes Prime Minister, while his deputy (Kakha Baindurashvili) becomes Finance Minister," Saakashvili told a televised meeting of the cabinet. The President pointed out that Nika Gilauri, together with Giorgi Baramidze, State Minister for Euro-Atlantic Integration, is one of the longest-serving members of his Cabinet. Gilauri has served as a Minister since February 2004, when President Saakashvili and late PM Zurab Zhvania formed their first Cabinet.
"The fact that people in cities or villages can watch TV and receive electric power is Nika Gilauri's achievement. Through him and his friends we have gained energy stability in Georgia," the President told the Ministers, adding that budget incomes also increased after Gilauri was appointed Finance Minister. "The fact that today, in spite of the financial crisis, we can deliver salaries and pensions in time, and the fact that this process was not suspended even during the war, is his Ministry's accomplishment," Saakashvili said.
The President said that there would be no more changes in the Cabinet, which now will face the Parliament's confidence vote. "Today we do not have time for experimenting," Saakashvili said. "This is not a new Cabinet, because apart from this change, no other changes at this stage and probably for a long time – will be carried out in the Government. Now we need stability. The situation, in terms of both the economy and security, remains vulnerable," he added.
The President also expressed his regret concerning Mgaloblishvili's health condition and said that the new Prime Minister's first task would be to elaborate a flexible medical insurance system, which would give socially vulnerable people the ability to access medical services. The President also called on his Ministers to work intensively, day and night, in order to overcome the economic crisis. "We need to work like a military headquarters; we have no right to relax, and we should work night and day in order not to sink in the economic storm which is now around Georgia," he said.
Parliament initially approved Grigol Mgaloblishvili and his Cabinet on November 1 when he replaced former PM Lado Gurgenidze. Prior to serving as Prime Minister he had been Georgia's Ambassador to Turkey.
According to Chairman of Parliament Davit Bakradze, Parliament will begin discussion of a new Cabinet next week and it will presumably be confirmed in office as week later. However it is expected that two new Ministries are about to be created, of Penitentiary and Probation and Regional Development and Infrastructure. What is known so far is that the Regional Development and Infrastructure Ministry will be led by Davit Tkeshelashvili, who is State Minister for Regional Issues at present, and it is suggested that Deputy Interior Minister Eka Zguladze will lead the other Ministry.