National Forum outlines action plan
By Messenger staff
Tuesday, February 3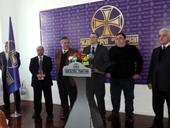 The National Forum wants to create civil committees in every big city and regional centre in order to remove President Saakashvili and his Government, as its leader Kakha Shartava announced on February 2.
Shartava said that to preserve Georgia's statehood the first urgent step is to remove Saakashvili and those around him from their posts. However the Forum thinks that Saakashvili does not consider himself guilty and does not plan to resign. "He does not intend to resign and is ready to take any step, even anti-Georgian ones, to maintain his position," Shartava said.
The civil committees the opposition party plans to form will involve local leaders whom the local population trust. These committees will create special groups which will operate at all polling stations, residential areas, public offices and enterprises. These will tell the population what is going on in the country, establish civil control over the functioning of local government bodies and in emergencies opposing the implementation of illegal and unjust decisions, protect citizens from illegal actions and the use of force by local government structures, protect public employees from repression by the administration, resist anti-state chaos or subversive actions if these are provoked by the authorities, ensure the functioning of organizations of vital importance and mobilize communities to participate in possible mass protest actions. Other groups will be responsible for keeping order during rallies in cases of emergency, stopping any kind of violence, provocation, or terrorizing of the population by any side.
The Forum says that as soon as these committees are activated, something which mainly depends on the level of involvement and firmness of the population itself, an ultimatum will be given to Saakashvili to resign in good faith from the position he seized. If he refusus to bow to the ultimatum peaceful rallies will be held in Tbilisi and throughout the country, strikes will be called, state bodies throughout Georgia will be picketed and other mechanisms of disobedience will be activated within the framework of the constitution. The Forum says that these actions will have only one purpose, to remove Saakashvili from power, and will achieve this.
The National Forum is asking Georgian society to stop talking and start acting. It seeks to cooperate with opposition parties which agree with this approach or can suggest a better one, but these would have to agree without precondition that they will not participate in any Parliamentary elections called by Saakashvili as these would simply give the President and his circle a chance to survive. Only if Saakashvili resigns should opposition parties fight elections, the Forum says. The Forum has stated that this statement is directly addressed to the New Rights, Freedom Party, Conservative Party, Labour Party, Movement of United Georgia, Republican Party, Georgia's Way, Traditionalist party and Peoples' Party. The parties of Nino Burjanadze and Zurab Noghaideli and the Parliamentary opposition are not included in the list of parties the National Forum wishes to cooperate with.
Some opposition parties have already responded to the Forum's statement. Conservative Zviad Dzidziguri said the statement is quite interesting but requires discussion within the opposition parties, after which they will make a decision. The National Forum's suggestion is also acceptable for Labour. "We welcome all the activities undertaken by the opposition. The struggle against the Government has been kept in the form of declarations until now. But proper peace protest rallies and plans for other constitutionally-consistent action should be defined," Labour spokesman Shatberashvili told
The Messenger
.
Political analyst Gia Khukhashvili is not so sure that it is possible to achieve the goals of the National Forum. "Such ideas have already been around for many years in Georgia. But it is questionable whether all the goals defined by the National Forum can be achieved as they involve addressing various points of detail. The wisest approach which can be adopted, financial resources and other related issues are yet to be settled. The only thing I can say now is that this project will be useful for our country. I can only wish them all luck and success," Khukhashvili told this newspaper.