Another new Minister is presented
By Etuna Tsotniashvili
Wednesday, February 4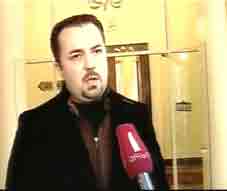 On February 2 Georgian President Mikheil Saakashvili introduced a new face to the Cabinet, Dimitri Shashkin, who will lead a new Ministry for Penitentiary and Probation. Saakashvili said that Shashkin is the best candidate for this post and highlighted that the authorities are comprised of professional staff who will help the country overcome the present crisis.
"Dimitri Shashkin has been working as the head of the International Republican Institute's local office on the issue of creating a dialogue between the parties," the President stated. "Today, when Georgia's response to the world economic crisis is most critical and consolidation so important, dialogue between parties is very important, including dialogue with small groups, radicals, moderates, and dialogue between the National Movement and other political parties. So I think that the person most capable of promoting this dialogue is Shashkin, as he has kept an equal distance from all the parties, worked with everyone, knows everyone, and understands their [political parties'] language," Saakashvili said. The President is sure that this experience will help the Government continue its second wave of democratic reforms in the legislative sphere as more generally.
Shashkin confirmed that he would have close relations with the opposition. He added that in addition to his duties as head of the new Ministry the President and Prime Minister had tasked him with the coordination of the second wave of democratic reforms. "So I am going to have close cooperation with all opposition parties, which they will feel is more constructive, open and transparent," Shashkin told journalists.
The Georgian opposition has not reacted negatively to Shashkin's candidacy for his new post, but has expressed its worry that Shashkin has joined the administration. According to Conservative leader Zviad Dzidziguri his party has worked with Shashkin before but doubts whether this will continue now he has become part of the authorities. "I do not know what kind of cooperation we could have with a second-rate Minister of the Saakashvili administration. I think we had much better cooperation when he worked quite effectively in the non-Governmental sector," Dzidziguri said.
Shashkin said he plans serious reforms in the penitentiary and probation sectors. He said however that these reforms would be conducted only after serious public discussions. He said that he was prepared to hold dialogue with political parties, NGOs and civil society. "Reforms are necessary both in the penitentiary and probation and legal assistance sectors. We should find the ways out of problems in these sectors together," Shashkin said.
Although Shashkin is not a very well known face to the public he is familiar to those in the political sphere, as Resident Georgia Country Director of the International Republican Institute (IRI). IRI - Georgia began its programme in 1998. Since then it has worked with all the major Georgian political parties to enhance their competitiveness by assisting them in such issues as message development, message communication, research, fieldwork and building political networks. IRI works with political parties through both private consultations and a campaign academy, in which it trains activists in a seminar setting.