Germany assists Georgia
By Messenger Staff
Thursday, February 5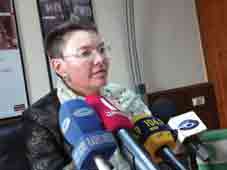 German Ambassador to Georgia HE Patricia Flor has held a press conference informing journalists of the assistance Germany has been rendering to Georgia since the August war.
As soon as the war broke out Germany immediately held a hand of support to Georgia, providing those in a need with tents and kitchen facilities and assisting the wounded. The German Government used organizations already active in Georgia, such as UNHCR, the Red Cross, CARE International and Caritas and others to deliver its aid. Germany also provided medical care facilities as well as food and personal hygiene items. Altogether more than EURO 14 million has been spent supporting Georgia. This is a voluntary contribution of the German Government to Georgia and it is not included in the overall EURO 500 million promised to Georgia from the EU.
Through UNICEF Germany has financed a project which took care of IDP children and their families. EURO 8 million was allotted through the GTZ for building housing for IDPs from Abkhazia and the Tskhinvali region. 30 mine detectors and ambulances were provided for the Halo Trust to enable it to carry out demining operations in the conflict zones. The Police Department of the City of Zugdidi was provided with technical equipment after its office was looted by Russian occupiers. Germany also provided different types of vehicles, including armoured cars for the EUMM missions.
Patricia Flor indicated that back in 2006 the German Government had begun helping to develop Batumiís tourist infrastructure. This support is continuing, as this sphere of Georgiaís economy has also suffered seriously from the war.
Answering journalistsí questions the Ambassador confirmed that she intends to further contribute to negotiations with the separatist de facto Governments but recognizes the territorial integrity and sovereignty of the state of Georgia.